[I just realized that this  2016 sale, an important event in the 2016 auction calendar, never got posted online. It is unfortunate not to document it and this is a make-good.]
By all accounts what RM Sotheby's did in Milan – while most Americans were digesting their Thanksgiving turkey and watching football games – November 25-27, 2016 was amazing.
By North American collector car auction standards the size of the docket, 424 automotive lots, 209 lots of motorcycles and boats and 184 lots of parts and automobilia, wasn't that unusual. Mecum, Leake and Auctions America present more lots than that at most of their auctions.
The entire sale being offered without reserve, while highly unusual for Europe, isn't especially noteworthy, either, it being the signature format for Barrett-Jackson's auctions and many other single-owner auctions.
The Milan sale, styled the "Duemila Route Collection" in RM Sotheby's publicity, however, set tongues wagging. The number of bidders crowding the venue in Pad 24 at the Milano Autoclassica (RM Sotheby's claimed over 3,000 registered bidders from 57 countries, 83% of them new to RM's bidder rolls) was unprecedented. Even more unprecedented were the prices being paid by those 3,000+ first time RM Sotheby's bidders.
Experienced buyers didn't have a chance as the bidding quickly ran away and hid from RM Sotheby's studied low-ball pre-sale estimates.
The collection had been amassed over many years by a prominent family in northeast Italy. It was apparent from the collection's makeup that it had gone beyond collecting to become an obsession with acquiring, a fixation on more, with little or no regard to reason. In the process financial soundness apparently gave way to finagling funds to pursue the fixation, which explains the involvement of Italy's court system and the Guardia di Finanza.
The Guardia had reason to be satisfied because when the last gavel fell at the end of three days the total (including commissions of 12% (for cars) and 17% (for bikes, boats and automobilia)) was €51.26 million, about $54.31 million. Of that cars made up $50.6 million.
Even more satisfying to the perpetually strapped Italian fisc, a number of the cars had never been registered in Italy, adding 22% VAT to the entire price including buyer's premium.
It was the performance against pre-sale estimate that tells the real tale of Duemila Route: 373 of the 424 car lots sold over their high pre-sale estimates, 88%. The 424 cars brought $45.2 million in hammer bids against total low estimates of $24.5 million, 1.8 times the low estimate. A paltry 24 lots were sold under the low estimate and only 27 lots were sold within the pre-sale range. The rest exceeded the pre-sale high estimates.
This is the polar opposite of the usual relationship between estimates and bids where it's 88% selling under the low estimate.
This was market madness of a high order, an hysteria that spread through the crowd like a virulent virus.
Keep in mind that these were hoarded cars, not a carefully maintained and exercised collection. They had been acquired, then squirreled away in warehouses where they sat unattended for varying but not inconsequential lengths of time.
The median transaction among the cars was $61,705; there were two lots sold at that price, a hammer bid of €52,000 ($55,094), €58,240 with 12% commission. They were:
Lot #891, 1963 Alfa Romeo Giulia Spider s/n AR377790, Hammered sold for $58,240, Final price $61,705. – A rusty, dirty, neglected original single carburetor car that was suitable only as a restoration project, estimated at $15,893-$21,190, it would have been expensive at $30,000 and brought effectively double its value;
Lot #854, 2002 Aston Martin DB7 Vantage Volante s/n SCFAB42352K403008, a clean used car, estimated at $21,190-31,785; Hammered sold for $55,094, $61,705 with 12% commission. – Reasonably priced at $40,000 and encumbered by a seizure order that had to be cleared before the new owner could take possession, the result is 150% of its realistic value.
A quick review of the results show that it wasn't the expensive cars that ran to extravagant prices [with the notable exception of the Maserati MC12, Lot # 601, S/N ZAMDF44B000012100, which brought $3,203,928 all-in on a reasonable estimate of $1.1-1.4 million], but rather the affordable cars from five to mid-six figures.
RM Sotheby's strategy was brilliant. They knew what they needed to get for the collection to satisfy the vendor (or a guarantee by the auction house) and built low estimates that would achieve that goal, then hoped the mystique of a vast collection of no reserve cars and the lure of going home with a bargain would create sufficient interest that bidders would become heedless of good sense.
It worked.
Documentation and tax status complicated some of the transactions and caused problems with a few cars with complex saleroom notices about seizure orders, title issues and VAT status. In about five cases RM Sotheby's simply, and wisely, elected to unwind the original transactions and re-run the cars, all of which sold successfully on the second try.
It was one small glitch in a path strewn with haste and potential pitfalls. RM Sotheby's didn't get selected to auction the collection until after Monterey in August, then had to locate (among 11 warehouses), catalog, photograph and document the cars, settle any title issues and transport the entire collection including automobilia and pallets of parts from Venice to Milan in time to utilize the venue available at Milano Autoclassica. As a logistics feat alone Duemila Route was a milestone in auction management.
But it is the packed hall, thousands of bidders and frantic bidding nearly heedless of value that distinguish it.
As an indicator of the market the individual prices realized at RM Sotheby's Duemila Route are meaningless.
These transaction values are, in the parlance of the investing world, Black Swans.
However, in the larger universe of car collecting it significantly shows that there is a vast population of enthusiastic collectors willing to part with unreasonable money to realize their dreams.
What follows is a small sampling of cars from RM Sotheby's Duemila Route auction with a few details of their estimates and transactions.
Photos are © by Eugene Robertson, Tim Scott, Tom Wood and others, courtesy of RM Sotheby's.
Lot # 127, Lighted Alfa Romeo dealer sign, double-sided, 150cm diameter. Estimate €1,500-2,500. Sold for €5,500 hammer, €6,435 with commission plus 22% VAT on the entire price which brings it to €7,850 or $8,321. Later in Duemila Route a whole Alfa Romeo could be bought for a few dollars more than this.
Lot # 217 1988 Mercedes-Benz 300 E Sedan 'AMG'; S/N AMG12412216011; Estimate $2,649 – $5,298; Hammered Sold at $79,463 plus commission of 12.00%; Final Price $88,998 – The magnitude of this result is mind-blowing, not only as an absolute but even more because it's 15 times the high estimate and 22% VAT was due on the entire transaction result taking the total to $108,578
Lot # 228 1967 Porsche 911 S 2.0; S/N 308175S; Estimate $2,649 – $5,298; Hammered Sold at $68,868 plus commission of 12.00%; Final Price $77,132 – Missing its bumpers, and who knows what else, the bidders must have overlooked the end of the early 911 fascination a year ago. RM Sotheby's, too, can be faulted for a 'parts car' estimate for one that is something, if not a lot, more than that. The result is 13 times the high estimate.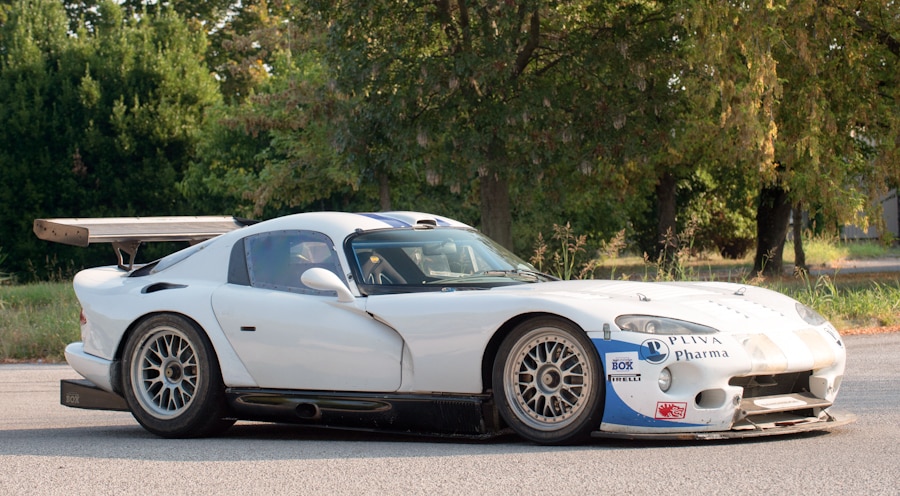 Lot # 234 2003 Dodge Viper GTS-R; S/N GTSRC45; Estimate $15,893 – $21,190; Hammered Sold at $227,793 plus commission of 12.00%; Final Price $255,128 – Even gutted and race-prepared so it is no longer practical (if registerable) on the road, the estimate is barely more than its race-prepared engine is worth. The buyer was optimistic, but far more reasonable than RM Sotheby's in setting the estimate.
Lot # 317 1983 BMW 635 CSi ETCC Group A; S/N E24RA108; Estimate $5,298 – $10,595; Hammered Sold at $153,628 plus commission of 12.00%; Final Price $172,063 – Curiously stamped by BMW with the designation 'Prototipo' when Bavarians might be expected to call it 'Prototyp', the Duemila Route bidders saw 14 ½ times more value in this Bimmer than RM Sotheby's cared to find. Its neglected and aged condition indicates it will not be an inexpensive project.
Lot # 354 1962 Lancia Flaminia GT 2.5 3C Touring; S/N 824103476; Estimate $1,589 – $3,179; Hammered Sold at $31,785 plus commission of 12.00%; Final Price $35,599 – The stuff obviously missing, not to mention that which will become apparent only upon a thorough and knowledgeable inventory, places this project firmly underwater – which is where it looks like it has already been.
Lot # 575 1947 Alfa Romeo 6C 2500 Sport Touring Coupé Aerlux; S/N 916020; Estimate $84,760 – $95,355; Hammered Sold at $217,198 plus commission of 12.00%; Final Price $243,261 – There is a great deal of sanity in RM Sotheby's estimate range but by this point in Duemila Route bids were routinely devastating the estimates; perhaps the bidders thought this was the 'new normal'?
Lot # 584 1949 Alfa Romeo 6C 2500 Sport Freccia d'Oro; S/N 916431; Estimate $68,868 – $79,463; Hammered Sold at $148,330 plus commission of 12.00%; Final Price $166,130 – Perhaps not as pretty as the Aerlux that came nine cars before but similarly generously valued by the assembled multitudes.
Lot # 594 1992 Lancia Delta HF Integrale Group A 'Jolly Club'; S/N ZLA831ABO00556754; Estimate $169,520 – $190,710; Hammered Sold at $317,850 plus commission of 12.00%; Final Price $355,992 – There were multiple examples of seriously intriguing racing and rally cars among the Duemila Route consignments, comprehensively and professionally prepared for competition according to their purposes. They seemed to have more effort put into realistic pre-sale estimates, but the bidders paid scant attention.
Lot # 602 1966 Ferrari 275 GTB/6C Alloy; S/N 08311; Engine # 08311; Estimate $2,542,800 – $2,966,600; Hammered Sold at $3,231,475 plus commission of 12.00%; Final Price $3,619,252 – Long nose, alloy body, torque tube, 6-carb, owned since about 1980 by the family, freshly serviced, matching numbers. One of the best maintained vehicles in Duemila Route, but sold for about a million dollars more than Bonhams got for steel-bodied s/n 08327 at Scottsdale in 2014.
Lot # 611 1959 Ferrari 250 GT Coupé Pinin Farina; S/N 1365GT; Engine # 1589GT ; Estimate $169,520 – $190,710; Hammered Sold at $370,825 plus commission of 12.00%; Final Price $415,324 – An incomplete restoration with plenty left to make it even close to right, not to mention having the wrong engine and needing a steering wheel to replace the handlebar.
Lot # 631 1935 Fiat 508 S 'Balilla' Aerodinamica; S/N 508S085264; Estimate $47,678 – $58,273; Hammered Sold at $169,520 plus commission of 12.00%; Final Price $189,862 – This is another of the truly unusual and intriguing cars among the masses at Duemila Route. It has the distinct advantage of being eligible for many important historic events, but is a long way from making it to the starting line; the bidders didn't seem to notice that.
Lot # 636 1990 AM General M151A2 MUTT; S/N ZA9151AT0A0A27207; Estimate $21,190 – $31,785; Hammered Sold at $14,833 plus commission of 12.00%; Final Price $16,613 – Although much of the fever at Duemila Route might be likened to an adoption day at the local dog shelter the bidders didn't show much sympathy for this American MUTT. It was one of few cars that actually sold below their low estimate.
Lot # 650 1973 Maserati Merak Group 4; S/N AM1220116; Estimate $10,595 – $15,893; Hammered Sold at $97,474 plus commission of 12.00%; Final Price $109,171 – A Merak race car? Good luck.
Lot # 896 1996 Porsche 993 GT2; S/N WP0ZZZ99ZTS393082; Estimate $31,785 – $37,083; Hammered Sold at $582,725 plus commission of 12.00%; Final Price $652,652 – Apparently RM Sotheby's thought this was a Group 3, or in preparing the catalog it was transcribed missing a zero off the range; the bidders recognized the difference, and then paid still more for it.
Lot # 910 1955 Alfa Romeo Giulietta Spider (3rd Car Built); S/N AR149500016; Estimate $37,083 – $42,380; Hammered Sold at $81,582 plus commission of 12.00%; Final Price $91,371 – Quickly covered with a layer of matte silver preservation paint, this single carb Giulietta Spider needs everything, probably including much that is missing. The allure of 'the third car built' (even if the chassis number is 16, which Luigi Fusi records as the first 1955 Giulietta Spider) is tangibly reflected in the price it brought and the new owner may feel some urgency in completing it before chassis number 15 shows up.
Lot # 922 1973 Alfa Romeo Giulia GT 1600 Junior; S/N AR2199924; Estimate $10,595 – $15,893; Hammered Sold at $39,202 plus commission of 12.00%; Final Price $43,906 – A whole car that brought barely more than double its value, it looks like something of a deal when compared with the earlier Alfa Giulia Sprint sold four lots later.
Lot # 926 1965 Alfa Romeo Giulia Sprint GT Stripped, primed body; S/N AR613513; Estimate $4,238 – $6,357; Hammered Sold at $16,952 plus commission of 12.00%; Final Price $18,986 – It doesn't take a very close look to find the rust-through in all the usual places on this media blasted body shell. Unless the new owner has a complete but comprehensively wrecked Sprint GT $19,000 is the beginning of a long and an expensive project.