Jim Saturley went through a trailer today and found more stuff.
There are interior parts and chrome we think are for the '61 Impala.
Rooting around in the cargo area of the Nomad revealed a rebuilt, plastic-wrapped Chevy V-8, probably a '68 or '69; we'll be looking for numbers on Friday. Bob's friend Arthur pointed out that it wasn't for the Nomad [Bob's widow Jean says there was never an engine with the Nomad] and if it can't realistically be linked to one of Bob's Cars it'll be offered as a separate lot.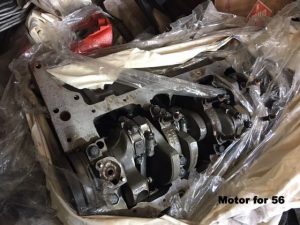 Photos of the Vogue Prima Vista motorhome interior:
Bob's Wrecker:
There's more to come from Bob Fleischmann's Aladdin's Cave of Cars.
Watch www.auctionboss.com for further details and the latest finds.
We'll be in Portsmouth early on Friday, taking and posting more pictures. Sign in here or at at vwww.auctionboss.com to get the latest details.
This is becoming a treasure hunt, and all the successful high bid money (no seller's commission) goes to Bob's estate.