Motostalgia Auctions bills itself as the official auction company for the SVRA Amelia Island Vintage Gran Prix, an event that took place March 16-19, a week after the auction, SVRA's third event of a busy winter season.
Motostalgia's results for 2017 were comparable with last year but actually reflected a better sale when it is recalled that the 2016 sale included two non-U.S. legal Ferraris, a 599 SA Aperta and a 599 GTO, that were sold sight-unseen and after the sale concluded after they no-saled at the auction to no visible bidding interest. They accounted for $2,020,000 of the 2016 total, 42½% of the total in two non-observed transactions.
2017 wasn't without its head-scratching transaction either, the $1,001,000 reported sale of a Cisitalia-Abarth 204A. Why a "head-scratcher"? It was the same car reported sold by Motostalgia at its 2013 auction during the inaugural USGP for an eye-popping $4,620,000 in a transaction that closed, like the Ferraris here last year, off the block and after the sale. That's a 78% drop in value in four years, a sky-is-falling benchmark if it is accepted.
The consignment for Motostalgia's Amelia Island auction improved from last year, particularly as shown by the nearly $10,000 increase in the median transaction value. The car count was up by 28%. Even discounting the Cisitalia-Abarth from 2017's total, doing the same with the two phantom Ferraris last year puts the 2017 sale total well ahead of last year.
Motostalgia's performance is especially meaningful in light of this year's disrupted schedule. With the Amelia Island Concours d'Elegance pulled forward to avoid forecasted severe weather and torrential rain on Sunday, Motostalgia's evening auction took place in the aftermath of the Concours, Cars & Coffee and RM Sotheby's Saturday afternoon auction, at the end of a very long day. Doing as well as they did under the circumstances is a triumph.
Here are the numbers:
Year
Cars Sold/ Offered
Sale %
Sold < Low Est
Sold > High Est
Average Sale
Median Sale
Total $
2017
47/91
51.7%
91.7%
8.3%
$97,922
$56,100

[57.3%]

$4,602,355
2016
40/71
56.3%
90.3%
3.2%
$118,870
$46,200

[38.9%]

$4,754,800
On-site observations and photos are by Andrew Newton; Rick Carey is responsible for the final copy and comments.
Lot # 1 1975 Porsche 914 1.8 Targa; S/N 4752906026; Bronze/Beige vinyl; Estimate $15,000 – $20,000; Visually maintained, largely original, 3 condition; No Reserve; Hammered Sold at $9,500 plus commission of 10.00%; Final price $10,450 – Later Blaupunkt stereo, rear defroster. – Represented with recent drivetrain rebuild. Dull and slightly wavy bumpers. Right headlight door is sunken down a bit. Chip at the back of the passenger's door. Tiny dent on the tail. Small blisters on the driver's body side. Tired wheels. Small rip in the driver's seat and worn steering wheel but mostly sound interior. Original and a bit tired underneath, but no rust. Finished in an eye catching color, but nothing better than a driver 914 1.8. – The 914 is still one of the cheapest ways to get into a Porsche even if they're more expensive than they probably should be, as demonstrated by this perfectly appropriate result for a driver.
Lot # 6 1967 Datsun 1600 Convertible; S/N SPL31114956; Cream/Black vinyl; Black top; Estimate $12,000 – $18,000; Visually maintained, largely original, 3+ condition; No Reserve; Hammered Sold at $14,000 plus commission of 10.00%; Final price $15,400 – Falken tires, modern Momo steering wheel, pushbutton radio, heater, dash clock. – Two big chips on the tail, otherwise good older paint. Good, lightly worn interior, which looks mostly redone other than the gauges and dash. Unrestored and slightly dirty but sound engine bay. Good chrome, but a few small dents in the side spears. An attractive little car and a better than average driver. – Rarer, slightly more valuable and generally more dependable than an MGB, these Datsun roadsters are great budget classics if you can find a good example without rust. This result was straightforward with appropriate money paid given this car's shortcomings.
Lot # 7 1997 Alfa Romeo 916 Convertible, Body by Pininfarina; S/N ZAR91600006032648; Red/Black, Red leather; Estimate $38,000 – $50,000; Unrestored original, 2- condition; With Reserve; Not sold at Hammer bid of $30,000 – Alloy wheels, Sony stereo, power windows, air conditioning. – Good original paint, but you can tell it's 20 years old. Very good interior looks new. Not something you ever see in the States, and it's a few years away before you could import one hassle-free, although this one reportedly has its paperwork in order and is claimed as the only one legally imported into the U.S. – The result is missing from Motostalgia's website, which suggests the paperwork wasn't as 'in order' as it might have been, probably a 'Show and Display' exemption, not strictly U.S. legal, and with a chassis number that is ominously populated by zeroes. It's also not much of an Alfa, with a transverse engine, front wheel drive and a bulbous butt. The 164 proved that Alfa had cracked the code of front wheel drive, but this still is not a car that appeals to Alfa owners except for its rarity.
Lot # 8 1957 Austin-Healey 100/6 BN4 Roadster; S/N BN4L038413; White/Black vinyl; Estimate $40,000 – $55,000; Older restoration, 3- condition; With Reserve; Post-block sale at $30,000 plus commission of 10.00%; Final price $33,000 – Painted wire wheels, Michelin XZX tires, dual wing mirrors, luggage rack wood shift knob, banjo steering wheel, Smiths heater. – Has top frame but no top. Upholstery is incorrect material and pattern, and has a small rip in the driver's seat. Plenty of paint coming off of the wheel spokes and brake drums. Big paint crack below the grille. Paint bubble on the tail. Lots of chips below the driver's door. Slightly uneven gaps. Faded dash. Brightwork is pretty good. A driver. Nothing to be ashamed of, but nobody's pride and joy. – Hammered not sold on the block at a high bid of $30,000, but reported sold post-block at the same hammer price. The 100/6 is one of the least collectible of the Big Healeys and one of the last ways to get into one somewhat affordably, as shown by this spot-on result for a decent driver.
Lot # 13 1979 Ferrari 308 GTB Coupe, Body by Pininfarina; S/N 30397; Silver/Red, Black leather; Estimate $90,000 – $130,000; Visually maintained, largely original, 2- condition; With Reserve; Not sold at Hammer bid of $74,000 – Dunlop SP Sport tires, 16-inch wheels from a later 308, Tubi muffler, power windows, air conditioning, leather-wrapped Momo steering wheel. – Very clean engine bay. Excellent repaint in the original color. A few cracks in the wheel caps. Very good original interior with seat wear corresponding with the 56,799 miles. Recent engine-out service. – Clean, well maintained, probably correct original miles and not red, this is a good carbureted 308 GTB with reassuring presentation, but it could have been sold with only minimal regrets at the reported high bid.
Lot # 25 1997 Lamborghini Diablo VT Roadster; S/N ZA9RV37P3VLA12626; Yellow/Beige leather piped in Yellow; Estimate $260,000 – $335,000; Visually maintained, largely original, 2- condition; With Reserve; Not sold at Hammer bid of $215,000 – Removable roof, Brembo brakes, power windows, climate control, power mirrors. – Very good repaint. Seats are really worn, especially the driver's seat, and look much more used than the 5,772 miles on the odometer would suggest. The repaint and lack of represented history also call into question what other stories this car might have. – There are too many questions in this Diablo's presentation for bidders to get enthusiastic about it. The seller will have to raise the level of presentation and give a persuasive history to reconcile the miles and condition to have a chance of getting a realistic price for it. Until then it suffers with a deserved discount.
Lot # 26 1968 Ford Bronco Wagon 4×4; S/N U15FLD29257; Peacock Blue, White roof?White; Estimate $30,000 – $40,000; Truck restoration, 3+ condition; No Reserve; Hammered Sold at $24,000 plus commission of 10.00%; Final price $26,400 – 6-cylinder, wheel covers, floor shift 3-speed, modern Pioneer CD stereo, tow hitch. – Very good truck quality exterior paint. Worn original switchgear and gauges, and there were masking errors around the switches when they painted the dash. Glass is original. Scratched door handles. Very light discoloration on the upholstery. Restored underneath but never taken fully apart. – Broncos have done very well at auction this year, but most of the huge results have been for very well restored V-8 examples. This more or less average restoration of a six-cylinder Bronco brought a relatively modest result in the current climate, but it's still a perfectly fair number that the seller can be satisfied with.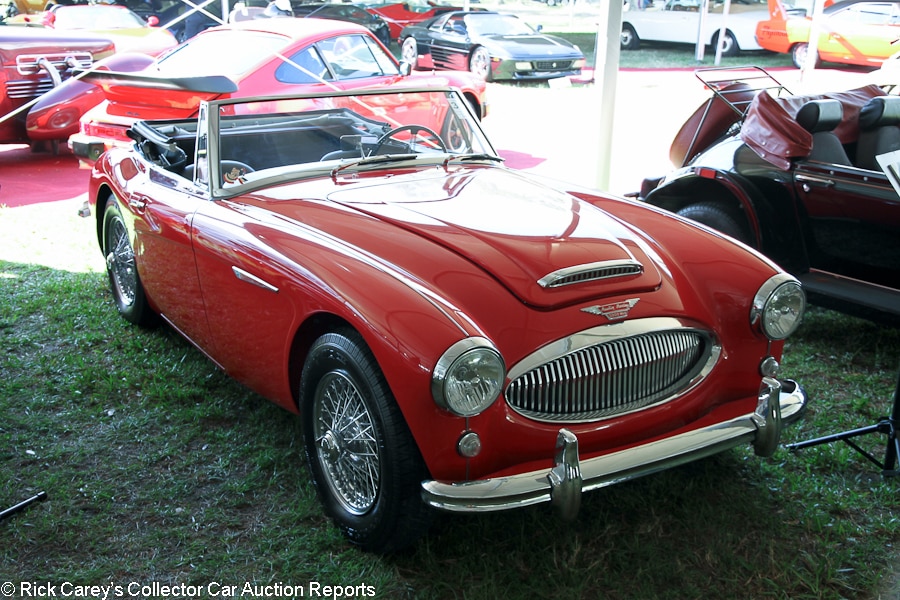 Lot # 31 1963 Austin-Healey 3000 Mk II BJ7 Convertible; S/N HBJ7L18025; Red/Black piped in Red; Black vinyl top; Estimate $75,000 – $90,000; Recent restoration, 2- condition; With Reserve; Hammered Sold at $72,000 plus commission of 10.00%; Final price $79,200 – Centerlock wire wheels, Touring T/A tires, Smiths heater, banjo spoke steering wheel. – Very clean restored engine bay. Very good recent paint and chrome other than a big unfortunate chip on the right front fender and another one on the right rear fender. Very good restored interior. Restored by Healey Lane. Not overdone, just to like new standards besides those two unfortunate paint flaws. – Sold by RM here in 2008 for $62,700, then by Auctions America at Ft. Lauderdale in 2015 when it had 6 miles on the odometer, now shows 139 miles. Came up short at a high bid of $60,000 at Mecum Monterey last year. Patience was surprisingly rewarded here, with an offer slightly less than the car deserved back in August in favor of an offer slightly more than the car deserved here in Florida.
Lot # 51 1967 Lancia Flavia 1800 Coupe; S/N 815430015329; Silver/Maroon leather; Estimate $35,000 – $50,000; Visually maintained, largely original, 3- condition; With Reserve; Not sold at Hammer bid of $30,000 – Kugelfischer injection, ZF 5-speed, hub caps and trim rings, Michelin tires, woodrim steering wheel, wood dash, dash clock. – Represented with a recent repaint in original color. Otherwise original. Pitting and bubbling on the chrome. Paint cracking and coming off of the steel wheels, and surface rust is poking through. Bubbling and chips on and around the trunk lid as well as a long scratch on the driver's door, calling into question how recent this repaint really was. Sound but quite worn original interior. Decent but worn underneath. It shows 75,709 kilometers on its odometer, and all of them are apparent on the car. – Just sold at the RM Duemila Route sale in November for $29,666, a sale not known for modest prices and why the consignor here thought something as obscure as a Flavia and as thoroughly used as this one is would flip in four months for a profit shows bad judgment bordering on no judgment at all.
Lot # 53 1965 Iso Rivolta IR 300 Coupe; S/N IR360303; Red/Black leather; Estimate $110,000 – $140,000; Visually maintained, largely original, 3 condition; With Reserve; Not sold at Hammer bid of $90,000 – 327/300hp Chevy, 4-speed, Borrani centerlock wire wheels, Pirelli tires, Personal steering wheel, heater, pushbutton radio, power windows. – Showing 97,152 km. Suspiciously little history represented. Cracks in the badge. Decent older paint with a crack near the hood scoop. Tired older chrome. Original Borranis have pitted spokes. Driver's door sticks out at the bottom. Sound but aged original interior with some cracking in the driver's seat. Not totally original, but well preserved and a reasonable restoration candidate. – The trouble is that the reported high bid is already restored Iso Rivolta IR300 month, leaving a buyer at this bid with nowhere to go but underwater. The seller is going to have to get real before this car goes away.
Lot # 69 1994 Chevrolet Corvette ZR-1 Coupe; S/N 1G1YZ22J0R5800171; Torch Red/Black leather; Estimate $30,000 – $50,000; Unrestored original, 2- condition; With Reserve; Not sold at Hammer bid of $23,000 – Goodyear Eagle tires, power windows, air conditioning, power seats, CD stereo, adjustable suspension, glass roof (stock body color roof included). – From the Owen collection. 20,720 miles. Handful of tiny chips on the nose and headlight doors. Scratch and a chip near the driver's door handle. Mostly very good original paint otherwise. Seat wear corresponding with the mileage, and the rest of the interior has been very well kept this is an ideal ZR-1 because it's in great shape but it's not a time capsule, so you'd never feel guilty going out and actually enjoying it. – Of the five low-mileage C4 ZR-1s on offer from this collection, only one of them sold despite fair high bids for most of them, making this a pretty fruitless auction trip. The high bid here wasn't generous, but it was perfectly appropriate for a lightly used example. It was sold at Mecum Kissimmee four years ago in 2013 for $23,320, then at Kissimmee two years later in 2015 for $27,540. The trend line has reversed with this result.