Bonhams brought THE headline car of the Monterey Auctions to Carmel Valley, the 1967 Ferrari 412P (330P3/P4 in the old style nomenclature), like the Lola T70, a sublime blending of form and function that represents an "old style" application of intuitive aerodynamics.
And it sold, on only two bids, for $27,500,000 hammer, $30,255,000 including the commission (which defrayed the cost of Bonham's elaborate setup at Quail.) It was a single transaction that accounted for over half of Bonhams 2023 Quail Lodge auction total of $55,222,940.
Bonhams was bought by a private equity firm, Epiris, a few years ago and had advanced a Mecum-esque consignment strategy at Quail, adding more and more cars up to the 219 in 2019, crowded cheek by jowl on their constrained Quail concession.
Recently they have cut back culminating in this year's 109-car offering and even though the 72.2% sale rate was the lowest since 2012 the quality and diversity of the cars brought both a handsome total and a degree of participation and enthusiasm not seen in recent years in a Monterey auction week where everyone had headline cars.
There were lots from 1904 to 2019, but most settled in Bonhams sweet spots that appeal to buyers who understand and appreciate quality cars, often with competition histories.
It presented a meaningful adjustment by Bonhams that featured the nearly incomparable 412P and fed off its aura to bring a glint to collectors' eyes for the other 108 lots.
I think it shows that doing what you do well and leaving the blanket of something-for-everyone to others works.
This was the most competitive Monterey auction week in a long time, maybe even "ever", and Bonhams made the most of it.
Immeasurably helped by Ferrari 412P s/n 0854.
Here are the numbers, without the 2020 semi-live/online year
Year
Cars Sold/ Offered
Sale %
Sold < Low Est
Sold > High Est
Average Sale
Median Sale
Total $
2023
80/109
73.4%
72.2%
5.1%
$690,287
$134,400

[19.5%]

$55,222,940
2022
120/137
87.6%
44.5%
11.7%
$231,555
$106,400

[46%]

$27,787,790
2021
122/139
87.8%
40.2%
18.9%
$296,672
$207,200

[69.8%]

$36,194,040
2019
163/219
74.4%
79.1%
3.1%
$186,511
$73,920

[39.6%]

$30,401,280
On-site observations are by Rick Carey, Andrew Newton and Greg Ingold. Some photos are from Bonhams: you can tell, because they're more glamorous. The report is in lot number order.
The re-branding of Bonhams Motor Cars to "Bonhams|Cars" may foreshadow a spinoff of the Motor Cars team from the rest of the Epiris-owned Bonhams auctions. Epiris is populated by "quants" who live by numbers. I may just be skeptical but I wouldn't be surprised if "Brooks Auctioneers" found a new life with the Bonhams|Cars team, nor would I be disappointed if it did.
---
Lot # 1 1972 Citroen ID20 Safari Station Wagon; S/N 3988829; Gris Typhoon, Light Gray/Blue; Estimate $30,000 – $40,000; Enthusiast restoration 3 condition; No Reserve; Hammered Sold at $37,500 plus commission of 12.00%; Final Price $42,000. – 1,985/99hp, column shift 4-speed, hub caps, dual mirrors, roof rack, cloth seats. – Home market example. Decent paint and tires, probably original chrome. Dirt and dust behind the headlight covers. Old wheels and tires. Tidy interior with newer cloth but original dash and gauges. Aged but orderly underneath. Delaminating at the bottom of the windshield. A solid ID wagon given refurbishment work appropriate to its value, and would make a good driver. – Classics Citroen isn't exactly a huge market, especially here in the US, but we couldn't help but notice the brand wasn't doing so hot in Monterey this year. This car was the only Citroen to sell above its low estimate despite its age and being the first lot of the day. And it's a rather strong price, especially since it's an ID, which was the cheaper version of the DS with fewer power features but still the same basic design. A bright yellow 1969 DS21 Safari was "Worst of Show" at this year's Monterey Concours d'Lemons.
Lot # 6 1996 Nissan Skyline GT-R Coupe; S/N BCNR33022602; Sonic Silver/Black cloth; Estimate $75,000 – $100,000; Unrestored original 3+ condition; No Reserve; Hammered Sold at $120,000 plus commission of 12.00%; Final Price $134,400. – 2,568/276hp twin turbo six, 5-speed, Tommykaira R, one of 16 believed to be built, engine upgraded to 400hp, special body kit and aero. – Good paint overall, but the carbon fiber accents have some chalkiness to the finish. The interior exhibits little wear. The engine compartment has some aging but is very clean. An iconic tuner R33 that has been driven but doesn't exhibit excessive wear or aging. – A top spec model from one of Japan's most respected tuners, this Skyline sold for a solid premium over a regular R33-generation GT-R, but even though it beat its presale estimate by quite a bit, in the longer term this is a good value in terms of rarity and performance per dollar in the JDM market.
Lot # 11 1964 Morgan Plus 4 Plus Fixed-Head Coupe; S/N A5794; Engine # CT30637ME; Yellow, British Racing Green/Honey; Estimate $180,000 – $220,000; Modified restoration 3+ condition; With Reserve; Not sold at Hammer bid of $155,000. – LHD. 2,138/140hp, dual Webers, 4-speed, wire wheels, Vredestein tires, badge bar, Lucas driving lights, Ostrich leather, woodrim steering wheel. – The 21st of 26 built and the original 1964 London Motor Show car. Restored to a different appearance than how it appeared then, but done to good standards. The paint and chrome are older but presentable. The driver's side mirror is missing. The ostrich leather is incorrect but looks good. Tidy underneath. Uneven panel gaps. It's an important if infamous car for Morgan people, and super rare. – The Plus 4 Plus (or +4+) was a big step outside Morgan's comfort zone. It was even further outside Morgan owners' comfort zone, and nobody wanted it, so the company went right back to making its bread and butter '30s-style roadsters. That this one is relatively famous (or infamous?) appears to have little impact on its value, and neither do the modifications. Bonhams sold it in Scottsdale 10 years ago when its restoration was much fresher for $230,500. It would have been reasonable to expect a similar number in 2023, but the market for an oddball model from such a niche carmaker isn't very big, and the right buyer wasn't at Quail Lodge. The consignor said, "Enough" and let it go.
Lot # 15 1999 Panoz LMP-1 S Roadster; S/N 002; Red/Black carbon fiber; Estimate $350,000 – $550,000; Competition car, original as-raced 3+ condition; With Reserve; Hammered Sold at $385,000 plus commission of 11.30%; Final Price $428,500. – No driveline, a rolling chassis prepared for a Ford/Roush 6-litre V-8 and 6-speed Xtrac sequential gearbox. – A Panoz show car that raced at Le Mans in 1999 driven by Johnny O'Connell, Jan Magnussen and Max Angelelli where it was 11th overall, winner at Mosport, third at Sears Point and Portland and fifth at Petit Le Mans. Repaired cracked tub was retained by Panoz as a race-ready spare without a drivetrain and remains in that condition although aged but well-maintained. A proven race car with historic racing potential. – Obscure in the extreme, but with immense potential to put itself in the mix in historic racing. It will take some effort to put it together with the things that make it go but they are not exotic or unduly expensive and this is an opportunity to be both different and fast, a rare combination.
Lot # 17 1988 Ferrari Testarossa Coupe, Body by Pininfarina; S/N ZFFSG17A3J0075836; Engine # 00831; Rosso Corsa/Tan; Estimate $140,000 – $170,000; Unrestored original 3+ condition; With Reserve; Hammered Sold at $135,000 plus commission of 12.00%; Final Price $151,200. – 4,943/390hp, 5-speed. – Represented as 10,490 miles. Original paint shows its age and has light hazing. There are minor chips to the nose. The interior shows noticeable wear with creasing and stretching to the seats. An average-looking Testarossa showing moderate miles but not exceptionally special. – Used but solid and maintained, this Testarossa sold for a spot-on price given its condition and mileage. It was sold for $88,000 at Russo & Steele in 2007, $66,000 at RM Ft. Lauderdale in 2009 and bid to $130,000 at Mecum Anaheim in 2016, $120,000 at Mecum LA in 2017. This result is nothing exceptional, just a sound, moderately used Testarossa at a handsome price.
Lot # 21 1999 Ferrari 550 Maranello Coupe, Body by Pininfarina-Scaglietti; S/N ZFFZR49A0X0113409; Engine # 50862; Rosso Corsa/Tan; Estimate $190,000 – $220,000; Unrestored original 3+ condition; With Reserve; Hammered Sold at $166,000 plus commission of 12.00%; Final Price $185,920. – 5,474/485hp, 6-speed manual, air conditioning, factory cassette. – Represented with 18,200 miles and regular maintenance. Repainted front bumper, and all interior control knobs were refinished to prevent the stickiness endemic to Ferrari plastics of this vintage. Dash leather was replaced as well. Decent original paint with a few chips on the hood. The splitter lip has minor scuffs. The interior shows little noticeable wear, a driver quality car through and through. – This price is right on the money for a solid but used 550 in today's market.
Lot # 25 1933 Alfa Romeo 8C 2600 Monza Spider; S/N Engine No. 2211083; Engine # 2211083; Red/Brown leather; Estimate $900,000 – $1,100,000; Rebodied or re-created 3+ condition; With Reserve; Hammered Sold at $760,000 plus commission of 10.66%; Final Price $841,000. – RHD. 2,556/215hp supercharged twin cam inline eight, 4-speed, cycle fenders, single aeroscreen. – Parted out in the 40's with the engine and gearbox separated from the frame and original coupe (later cut to make a spider) body by Jack Williams. Later powered by a Mercury V8. Eventually began a long restoration/reconstruction process with a new frame and body. Reunited with the original engine from chassis 211083 for David Uihlein and enlarged to 2,600cc. Very good older paint and upholstery. Lightly oiled engine compartment. Clean and orderly but there may be two Monzas claiming origin from this original car. – This reconstructed Monza was sold for $907,500 at RM Monterey in 2007. It brought less here but has all the definitive 8C 2600 Monza stuff built by Neil Twyman in the UK and makes the right noises while giving the right impressions and is a solid value at this price that will encounter little blowback when it enters historic events and even Alfa 8C gatherings. It preserves the best of the beast without costing the earth.
Lot # 26 1909 Lorraine-Dietrich 16.4-Liter Grand Prix Two-Seater; S/N 60189; Black/Black leather; Estimate $600,000 – $800,000; Facsimile restoration 3- condition; With Reserve; Hammered Sold at $1,150,000 plus commission of 10.43%; Final Price $1,270,000. – RHD. 16,387/200hp OHV four, 4-speed, double chain drive. – Built from the whole cloth using period pieces from here and there including a de Dietrich chassis, Lorraine-Dietrich transaxle by Richard Scaldwell. Engine built from scratch. Oily, dirty and dusty exactly like it should be. Runs like a bear. – Evan Ide happily gave demonstration rides which must have been effective when the successful bid nearly doubled the pre-sale low estimate. It is delightfully analog right down to the clearance holes in the hood so the driver can watch the overhead valve rocker arms do their dance.
The spectacle is as amazing as the driving sensation must be. Sixteen point four litres, four plus litres per cylinder and fifty horsepower unleashed every time a cylinder fires. Worth every penny.
Lot # 28 1953 Arnolt-Bristol Deluxe Roadster; S/N 404X3084; Engine # BS1MKII285; Silvery Grey, Blue stripe/Grey leather; Estimate $350,000 – $400,000; Older restoration 2- condition; With Reserve; Not sold at Hammer bid of $300,000. – LHD. 1971/132hp, 4-speed, aluminum radiator, hub caps, clear bra on nose. – Represented as matching numbers. Restored in the 1990s and still in rather good condition with just a few small scratches in the paint and slightly uneven fit for the doors. The engine and interior look great with hardly any use, and this would still be a perfectly good event car, especially since it's eligible for so many good drives. – Sold at RM's Elkhart sale three years ago for $324,000, then came to Broad Arrow's Amelia sale a few months ago where it was a $330,000 no-sale. That $330K offer was a perfectly fair one, and the consignor wasn't rewarded for patience or persistence in Monterey. "Deluxe", however, is the trimmed out street version whereas the Bolide is stripped down for racing which is where these cars made their reputation
Lot # 31P 1959 Mercedes-Benz 300SL Roadster; S/N 198042109500036; Engine # 1989808500332; Weissgrau/Red leather; Black cloth top; Estimate $1,200,000 – $1,400,000; Recent restoration 2- condition; With Reserve; Hammered Sold at $1,075,000 plus commission of 10.47%; Final Price $1,187,500. – 2,995/250hp, 4-speed, polished Rudge-style centerlock wheels, Michelin tires, luggage, tools. – Scraped and gouged top boot cover leather, good older seats. Excellent paint and bodywork. Represented as having matching engine and chassis numbers according to club records. – Sold by Gooding at Pebble Beach eight years ago for $1.1 million and still and exceptional if slightly aged car today, this is a sound value in a quality car.
Lot # 32 1928 Alvis FWD Sports Two-Seater; S/N 6794; Engine # 7565; Green/Brown; Black top; Estimate $575,000 – $675,000; Competition restoration 2 condition; With Reserve; Not sold at Hammer bid of $460,000. – RHD. 1,481/50hp four, 4-speed, front wheel drive, Rudge-Whitworth wire wheels, Blockley tires, Lucas headlights, folding windshield, driver's aeroscreen, single sidemount spare. – One of about 39 FD-series front wheel drive Alvises built of which 14 are known to survive. Raced at Le Mans in 1928 finishing 9th (2nd in class) with no known subsequent race history. Mechanically and cosmetically refreshed in the last ten years with some use in shows. Very good paint including the fabric-covered cowl-back body. Excellent upholstery. Done well and not over done. – It's not a surprise that the owner of this exceptional FWD Alvis, fresh off a Best in Class at The Amelia this year and in the centenary year of the 24 Heures du Mans declined to take this bid. This is a decidedly niche car, however, and finding the right home for it will take some searching, but the consignor's expectations are reasonable.
Lot # 36 1966 Lola T70 Mark II GT Coupe; S/N SL7146; Red/Black; Estimate $400,000 – $500,000; Competition restoration 3+ condition; With Reserve; Hammered Sold at $365,000 plus commission of 11.37%; Final Price $406,500. – RHD. 385/650hp Chevy, four Weber carburetors, 5-speed transaxle, black centerlock alloy wheels, Avon tires – Originally a Spider for John Mecom and driven by Jerry Grant in Can-Am and USRRC. Later rebodied as a Mk III coupe and raced in historic events with further development documented in the file. Good cosmetics. A clean and orderly vintage race car. – Inside Bonhams marquee today was the other sublimely beautiful, form following function, racing car of the Sixties, Ferrari's 412 (330 P3/P4), but it cost 75 times more and probably is little if any faster than this fire-breathing 385 cubic inch Chevy-powered T70. The performance per dollar equation is tilted steeply in favor of this T70 and it's svelte and sexy, too.
Lot # 37 1992 Lancia Delta HF Integrale Evoluzione Martini 5 Hatchback; S/N ZLA831AB000568599; Engine # 831E5000; Bianco, Martini graphics/Black Alcantara, cloth inserts; Estimate $160,000 – $190,000; Unrestored original 2- condition; With Reserve; Hammered Sold at $142,000 plus commission of 12.00%; Final Price $159,040. – 1,995/210hp, 5-speed, all-wheel drive, 17-inch white wheels, Yokohama tires, Clarion cassette, Recaro seats, 15-inch Speedline wheels included, tool kit, manuals, jack, invoices. – Number 374 of 400 Martini 5 editions built and believed to be the only one legalized for use in California with a CARB certificate to back it up. Showing 22,000 km that are represented as actual. One large touch up on the nose and the wheels are dirty, but the paint is otherwise quite good. So are the interior and underbody. Not a showroom fresh delivery mile car, but if you wanted one of these rally icons to actually drive, a lightly used one like this is perfect. – Legendary performance celebrated in hours of breathtaking video and film, this is the commemorative fifth WRC Martini homologation version, more straightforward than the Rally cars mechanically but still exhilarating to drive. No one can reasonably fault the price this carefully used but still usable example brought.
Lot # 40P 1966 Porsche 906 Coupe; S/N 906120; Engine # 906121; White/Red; Estimate $2,200,000 – $2,500,000; Older restoration 3+ condition; With Reserve; Hammered Sold at $1,850,000 plus commission of 10.27%; Final Price $2,040,000. – LHD. 2.5/260hp, 5-speed, Dunlop Racing tires, Talbot Berlin wing mirrors, woodrim steering wheel, cloth seats. – Extensive and successful period race history in Japan, mostly with prominent racer Shintaro Taki, that lasted from 1966-73 and included too many wins and podiums to list here at Suzuka, Mt. Fuji, and Macau. Represented as matching numbers, although the engine was enlarged from 2.0 to 2.5 liters at some point. Factory restored in the 1990s. Decent paint with several cracks around panel edges. Long crack in the right headlight cover and another on the right side window. Side windows are lightly scratched as well. Several dings on the wheels. Plenty of flaws but it all seems to be forgivable, superficial stuff, especially on a historic racer that begs to be driven. – Like all of Porsche's lightweight, fiberglass-skinned small-displacement racers of the '60s, the 906 (aka the "Carrera 6") was a winner. About 60 were built. They won their class at Daytona, Sebring, Monza and Spa, and a 906 took the overall win at the Targa Florio. This one's wins out (far) east are less well-known but still significant, and the result here is in line with what few other 906s have sold for at auction in recent years.
Lot # 43P 1930 Alfa Romeo 6C 1750 SS Spider, Body by Zagato; S/N 0312957; Engine # 0312957; Red/Black leather; Estimate $1,600,000 – $1,900,000; Older restoration 2 condition; With Reserve; Not sold at Hammer bid of $1,400,000. – 1,752/85hp supercharged inline six, 4-speed, Bosch headlights, Zeiss spotlight, chrome wire wheels, Dunlop tires, radiator stoneguards, dual rear-mounted spares, new wheels and Blockley tires included. – Excellent paint, chrome and interior. Bright crisp gauges. Clean orderly engine compartment. More clear history from new than is usual with 1750s including Roy Slater in the UK and Stanley Wanlass in the U.S. Some bodywork repairs over time but nothing that detracts significantly from the body's origin at Zagato. – An important component in the legendary history of Alfa Romeo, the Vittorio Jano designed 6C 1750 set the pattern for later Alfas with a couple more cylinders, the 8C 2300s and 8C 2900s. Supercharging was the period's high performance medium (although it would be instructive to see what a 6C 1750 with three modern Webers or fuel injection would do.) Universally appreciated by collectors, the seller's reluctance to take the reported high bid for this essentially flawless example is understandable.
Lot # 45P 1955 Lancia Aurelia B24S Spider America, Body by Pinin Farina; S/N B24S1140; Engine # B241185; Amaretto/Tan leather; Black cloth top; Estimate $1,250,000 – $1,750,000; Recent restoration 2 condition; With Reserve; Not sold at Hammer bid of $1,025,000. – 2,451/118hp V6, 4-speed, steel center Borrani wheels, hubcaps. – Reproduction ID tag. Gorgeous paint, chrome and interior. The engine compartment is nearly like new. A beautiful vehicle despite the restoration from field art condition taking 14 years. Represented as the original engine. Comprehensive half-million dollar restoration documentation. – Even at the low estimate this would be a magnificent value taking into account the meticulous restoration and the inherent value of a Spider America. It is somewhat surprising that the informed bidders at Quail Lodge didn't rise to the bait and bid more, the car is worth it.
Lot # 49P 1949 Talbot-Lago Record T26 Grand Sport Cabriolet, Body by Dubos; S/N 110117; Engine # 115; Blue/Black leather; Black vinyl top; Estimate $2,000,000 – $3,000,000; Visually maintained, largely original 3- condition; With Reserve; Hammered Sold at $1,850,000 plus commission of 10.27%; Final Price $2,040,000. – 4,482/190hp, 4-speed Wilson pre-selector transmission, chrome wire wheels, Blockley tires, Marchal headlights and driving lights, chassis number 116. – One of only three known short wheelbase cabriolets surviving. Mostly original with an esteemed provenance of informed collectors including Lutece restaurant owner Andre Surmain. Newer upholstery but the dash and gauges are old and foggy. Peeling front bumper chrome. A few paint chips particularly along the front edge of the driver's door. Scratched grille surround. Dirty unrestored chassis and underbody. A beautiful car that deserves a beautiful restoration or continued preservation. – A visually compelling car that takes advantage of its short wheelbase chassis and integrated grille to make a statement that is undeniable and accounts for its careful preservation over the years. It is impossible to argue with the price it brought here and it would be disappointing to see it restored.
Lot # 51P 2003 Ferrari Enzo Berlinetta, Body by Pininfarina-Scaglietti; S/N ZFFCW56AX30131631; Engine # 73365; Rosso Corsa/Pella Nera leather; Estimate $2,900,000 – $3,400,000; Visually maintained, largely original 3+ condition; With Reserve; Not sold at Hammer bid of $2,675,000. – 5,999/660hp, black centerlock alloy wheels, black calipers, Bridgestone tires. – US market car, one of 111 sold here. Full service this January. Classiche certified including the Ferrari-supplied replacement engine. Repainted in Italy. Small chip on the nose. Lots of paint coming off of all the wheel nuts. Light wear to the sets and small smudges on the red belts. Any Enzo is a big deal, but by Enzo standards this one's repaint and flaws are significant strikes against it, and it has high miles for an Enzo. – Offered by RM here in Monterey in 2009 where it was reported bid to $850,000, subsequently repainted in the original color. Given the history, replacement engine and 16,900 miles both the estimate and the reported high bid are reasonable.
Lot # 55P 1951 Ferrari 212 Export Barchetta, Body by Touring; S/N 0100E; Engine # 0067S; Rossa Corsa/Black leather; Estimate $4,250,000 – $4,750,000; Competition restoration 2 condition; With Reserve; Post-block sale at $3,540,909 plus commission of 10.14%; Final Price $3,900,000. – 2,340/170hp, 5-speed, triple Weber 36 DCF carburetors, silver painted Borrani wire wheels, Dunlop Racing tires, Marchal headlights and fog lights. – 16th overall, 7th in class at Le Mans in 1951 driven by Charles Moran and Franco Cornacchia, then in the U.S. Original engine changed in 1955 for the present engine from 0067. Later raced in the U.S. by John Shakespeare. Cosmetically restored more recently with the intact original Touring body. Gorgeous paint both outside and inside. Lightly stretched driver's seat cushion. Thoroughly restored to like new condition. – This result probably reflects a bit of horse trading by Bonhams to give the seller close to what he wanted and the buyer a moderate all-in price of $3.9 million. With its Le Mans and early U.S. road racing history it is the kind of car that can command admission pretty much anywhere it wants to go and it will be a show-stopping presence wherever it appears.
Lot # 57P 1930 Alfa Romeo 6C 1750 GS Spider, Body by after Zagato; S/N 8513033; Engine # 8513033; Red/Red leather; Black cloth top; Estimate $1,000,000 – $1,500,000; Competition restoration 3- condition; With Reserve; Not sold at Hammer bid of $860,000. – RHD. 1,752/85hp supercharged twin cam six, 4-speed, black painted wire wheels, driving light, amber headlight covers, folding windshield, dual cowl-mounted spotlights. – Mille Miglia participant 1930 and 1931, Ex-Luigi Scarfiotti, Scuderia Ferrari, Coachwork in the original Zagato Grand Sport style as originally fitted to this chassis new. Original and matching numbers frame, chassis, engine, compressor, gearbox, drive train, bulkhead, and fuel tank (the complete rolling chassis). Retaining original SF 'Scuderia Ferrari' stamps on crankshaft etc. and period race modifications including double 'Auto-Vac' fuel system. The exterior is dull and aged. The fantastically designed front axle is aged looking as is the suspension, hubs and drums. The engine bay is oily here and there but is largely in original condition. The engine block is poorly hand painted in matte black. The leather seat tops are slightly worn. A working car with the best pedigree, a wonderful Alfa that ran the 2018 Mille Miglia and likely has a standing invitation. Carefully and forensically documented due to the appearance of another 1750 claiming the same chassis number. – A long auction history for this car starts at Worldwide's Houston auction in 2005 where it was reported sold for $1.1 million, then at Bonhams Quail Lodge in 2008 with a similar sale price of $1,107,000. Bonhams marketed it at Paris in 2011 and Monaco in 2012 without selling but turned the trick in Paris in 2019 where it was bid to $1,190,530 (Euros 1,050,000 at the time) without selling. It is thoroughly documented with expert attestations of the originality of the engine, gearbox, both axles, steering box and chassis frame. Despite the replacement body this is a high quality and highly original Gran Sport that deserves to bring a price much closer to the low estimate and wouldn't be unduly expensive at a hammer bid a bit over $1 million.
Lot # 61 1957 AC Ace Bristol Roadster; S/N AE205; Engine # 100D2786D; AC Works Green, White/Dark Green; Estimate $750,000 – $950,000; Competition restoration 2+ condition; With Reserve; Hammered Sold at $690,000 plus commission of 10.72%; Final Price $764,000. – RHD, 1,971/130hp, 4-speed, painted wire wheels, Michelin tires, side exhaust, side curtains, woodrim steering wheel, Smiths gauges, Speedpilot Rally timers. – Ex-Ken Rudd works Le Mans car with competition upgrades including high-compression Bristol engine, a close-ratio Bristol gearbox, a low-ratio diff, electric fuel pump, large fuel tank with special filler, oil cooler, Girling front disc brakes, Plexiglas windscreen, belly pan, and modified body with low-drag nose and a smaller, almost smile-shaped grille. Finished 2nd in class and 10th overall at Le Mans in 1957. Minor period race history on the East Coast. Beautiful paint and interior. Spotless underbody. Uneven gaps on the trunk lid. An important Ace restored to the standards it deserves. – The seller of this car, who bought it in 1963, used it to commute between Baltimore and Washington, D.C. while he worked on the Apollo program. He must have only had room for one car. He must not have had any friends with a truck, either, because he reportedly also strapped a 34-foot, two-man rowing shell to the Ace. No word on where the oars went, and this is probably the only Le Mans veteran to double as a daily driver and rowing transport. Eventually, the Ace with the smiley face got tucked away in his basement from 1972 'til a full restoration followed from 2019-21. This is the most significant Ace to come to auction in quite some time and the fresh, correct restoration certainly helps. The bidders recognized it all and put up a fair but not excessive price for it. Given its history and special equipment, the fact that it brought less than twice the price of a "regular" Ace-Bristol in this condition makes it a good value in our eyes.
Lot # 63 1957 Lancia Appia GT Coupe, Body by Zagato; S/N 812011258; Silver/Red piped in Black; Estimate $275,000 – $325,000; Recent restoration 2+ condition; With Reserve; Hammered Sold at $250,000 plus commission of 12.00%; Final Price $280,000. – 1,089/53hp, 4-speed, hub caps, Michelin XAS tires, single Matador mirror. – One of 10 cars built with this design including double bubble roof, covered headlights and Zagato seats. Restored in Italy. Eligible for Mille Millie, Colorado Grand, Copperstate. Very good paint, chrome, and interior. All looks fresh but not overdone. – An outstanding example done to high but not ruinous standards this Zagato-bodied Appia is a great example of Vittorio Jano's engineering mastery, something seen time and again all over Bonhams auction field today on both Alfas and Lancias. It is expensive at $5,283/horsepower but also distinctive and likely to be as successful and well-received on the many events for which it is eligible as on show fields for its excellent restoration. The dollars/horsepower cost may be high, but this is what this little gem is worth.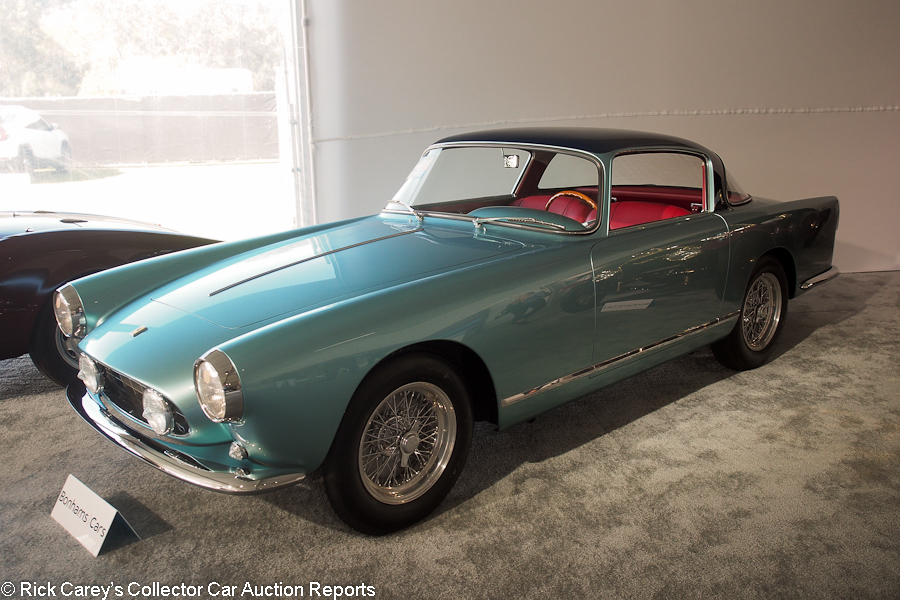 Lot # 64P 1958 Ferrari 250 GT Coupe, Body by Ellena; S/N 0855GT; Engine # 0855GT; Azzurro Metallizzato, Blue roof/Pelle Rossa leather; Estimate $1,100,000 – $1,300,000; Recent restoration 2+ condition; With Reserve; Hammered Sold at $1,080,000 plus commission of 10.46%; Final Price $1,193,000. – 2,953/240hp, triple Weber carburetors, 4-speed, Marchal headlights and grille-mounted fog lights, chrome spoke Borrani wire wheels, Pirelli tires, dual brake master cylinders, vented brake drums, tool roll. – Represented as matching numbers throughout, Ferrari Classiche Red Book certified. Cavallino Palm Beach Platinum in 2020 and displayed at Pebble Beach in 2022. Freshly restored like new with better clearcoat paint, inviting upholstery and brilliant chrome. – Impeccable presented and thoroughly documented as correct and as-built, in essence this is a thing to love and admire and, particularly when compared with the prices of current Ferraris with their electronically-controlled innards, this is a purely analog, rewarding experience that brought a sound price that is fair to both the buyer and the seller.
Lot # 66 1972 Ferrari 246 GT Dino Coupe, Body by Pininfarina-Scaglietti; S/N 03088; Engine # 0009096; Rosso Corsa/Beige leather; Estimate $250,000 – $300,000; Visually maintained, largely original 3- condition; No Reserve; Hammered Sold at $232,500 plus commission of 12.00%; Final Price $260,400. – 2,419/195hp, 5-speed, leather-wrapped steering wheel, Cromodora wheels, Michelin XWX tires, Ansa exhaust, power windows, "E" series. – Represented with three California owners since 1975. Originally painted Marrone Dino Metallizzato but resprayed Rosso Corsa many years ago during body repair on the left front. Serviced before the auction but reportedly needs further sorting. Old and heavily faded repaint. There is a large paint crack by the front Dino badge. The engine compartment is old and dirty. The seats are aged and have creases. An ungracefully aged car needing full restoration. – The price of neglect is shown in this result, not only in the modest pre-sale estimate range but also in the below-estimate hammer bid it brought, and it didn't even have an intriguing story like the neglected Walt Medlin Ferraris arrayed on the hillside at RM Sotheby's. The result, however, is moderate enough to give the new owner financial headroom to give it mechanical attention and drive it before submitting to the nearly inevitable restoration. This result is an intelligent compromise between condition and potential.
Lot # 67P 1967 Ferrari 412P (330P3/P4) Berlinetta, Body by Fantuzzi; S/N 0854; Engine # 0854; Red, Cambridge Blue stripe/Black, Red; Competition restoration 2- condition; With Reserve; Hammered Sold at $27,500,000 plus commission of 10.02%; Final Price $30,255,000. – RHD. 3,989/420hp V12, 6 Weber carburetors, 5-speed, centerlock alloy wheels, Avon tires. – This is THE headline car at this year's Monterey auctions, a rarely seen and even more rarely publicly available example of form following function to create one of the most achingly beautiful competition cars ever conceived. Meticulously restored, road registered and street legal. A note on nomenclature: The 412P designation followed Ferrari's change from its traditional single cylinder displacement as used in the factory's 330 P3/P4 versions to the new terminology of 4 litres and 12 cylinders (comparable with the Dino 246 (2.4 litres, 6 cylinders) and 308 (3 litres, 8-cylinders)). Why? The reasons are known only to Ferrari but this is how the customer versions were designated in 1967. Raced by first owner Ronnie Hoare's Maranello Concessionaires with a second at Spa (Attwood/Bianchi), a dnf at Le Mans and 7th at Brands Hatch (Piper/Attwood). Later sold to David Piper and raced through 1969. Later with Chris Cord, Carl Bross, Anthony Bamford, Jarold Evans, Hajime Tanaka in Japan, Sir Paul Vestey, John and Bruce McCaw before the current owner. Restored to its Brands Hatch appearance and road registered and street legal in New York state. Shown and enjoyed since and in exceptional, running-driving-stopping, condition. – Shown at Pebble Beach accompanied by a tall guy in a leather wide-brim hat who might have been motivated to move this legendary Ferrari on to pay for his team's foray to Le Mans this year. Somehow, driving it on today's secondary roads let alone freeways populated by Suburbans, Navigators and Land Cruisers seems an unnecessary risk. Their mirrors aren't aligned to see this sleek, sexy, fast rocket coming up behind them until it goes by with a 12-cylinder snarl. It was the center of attention here in Monterey, THE headline car of the week's auctions and it sold on the block with just two bids, a strategic move by the bidders who opened high enough to scare off the competition and then brought a half-million dollar advance also high enough to satisfy the seller. For sale on the first bid, Rupert Banner waited, waited, cajoled and encouraged only one was forthcoming. An epic collector car auction moment.
Lot # 69 1970 Maserati Ghibli Coupe, Body by Ghia; S/N AM1151554; Claret Red/Black; Estimate $90,000 – $130,000; Older restoration 4+ condition; No Reserve; Hammered Sold at $75,000 plus commission of 12.00%; Final Price $84,000. – 4,709/310hp, 5-speed, painted wire wheels, Pirelli P5 tires, woodrim steering wheel, power windows, air conditioning, leather seats. – US market car. Reportedly restored in the late 1990s, but little other info and records of that work don't exist. Paint looks decent from a distance but shows lots of blemishes and a few cracks up close. Faded dash top. Dirt in the rear cargo area and ripped upholstery back there as well. The seat leather is at least nicely mellowed, but it is a bit dry and on the verge of cracking. Worn shift boot but decent gauges and shift gear. Pitting in the wheel locks. Driver's door won't close all the way. A reasonably well-configured Ghibli in an interesting color, but it needs a lot. – And at this price, the new owner is in the car for low enough to give it a lot without getting way underwater. It was reported sold at Bonhams Scottsdale in January for $134,400 where it was described as sitting since 2008. It is probably a deal that went upside down since it is cataloged as with the present owner since 2008. A Ferrari Daytona in this condition might bring four or five times this price, but it isn't four or five times the car.
Lot # 71 1955 Bristol 405 Drophead Coupe; S/N 4054510; Engine # 100B24217; Dark Metallic Blue/Grey; Black cloth top; Estimate $175,000 – $250,000; Older restoration 3- condition; With Reserve; Not sold at Hammer bid of $145,000. – RHD. 1,971/130hp, triple Solex carburetors, 4-speed with overdrive, hub caps, wood dash, added Kenwood CD stereo, leather seats, front disc brakes, grille-mounted driving light. – One of 43 built. Factory restored in the early 2000s and has a correct replacement engine. Older, swirled paint. Scratched headlight bezels and tired bumpers. The driver's door will not close all the way and sticks out nearly an inch at the bottom. Clean top. Good, lightly worn interior. Tidy and lightly used underneath. Bristols are interesting, exceedingly rare cars but they are often in slightly scruffy driver condition like this one. – Handsome, hand-built and hardly seen outside the UK, Bristols – which built airplanes through WWII before turning some attention to cars – don't have a huge following in this country and a driver-quality car that's rough around the edges has an even more limited appeal. Nobody was clamoring for this one, but it could have sold at the perfectly fair reported high bid.
Lot # 72P 1916 Stutz 4C Bearcat; S/N 3021; Red, Black fenders/Black; Estimate $1,750,000 – $2,750,000; Older restoration 4 condition; With Reserve; Not sold at Hammer bid of $1,500,000. – RHD. 360/60hp T-head four, 3-speed transaxle, rear drum brakes, rear-mounted spare. – A lovely original car with carefully curdled paint matched to the original paint still on the car. Sound older replaced upholstery. Painted brass. Chassis has curdled old black paint. Wonderful and pretty much as it came out of AK ("Nutzy Stutzy") Miller's sheds in 1996 where it sold for $173,000 but now running and driving. – This was the most expensive lot in the fabled Miller sale in East Orange, Vermont in 1996. It was one of five Bearcats of various models in Miller's collection and while no one would attest to its correctness then (Miller being famed for making things up to the point where Hemmings Motor News refused to publish his classified ads for Stutz parts) it has appropriate features. The AK Miller history is important among Stutzes – he owned the best – but his proclivity for modifications is a decided drawback and the high bid here is realistic, if not generous.
Lot # 79 1991 DeTomaso Pantera 90 Si Coupe; S/N ZDT874000MA009630; Giallo Cromo/Nero leather; Estimate $325,000 – $400,000; Unrestored original 2- condition; With Reserve; Not sold at Hammer bid of $280,000. – 5.0/247hp Ford V8, 5-speed, Fondmetal alloy wheels, Brembo brakes, Michelin tires, cassette stereo, air conditioning, tools and books. – One of 41 built. Showing 33,333 km (20,712 miles). Good, lightly aged paint. Lightly wrinkled leather. Clean underneath. Built at a time when most people had forgotten the Pantera still existed. But, being the last of its kind, it's developed and rare. Lightly used and cool. – Ford stopped importing the Pantera to the US (where it was sold at Lincoln-Mercury dealers) in 1975, but production in Italy kept on going until 1992 with regular improvements along the way. Visually, the final Gandini-styled 90 Si version was probably the biggest change in the model's history, but the suspension and chassis were improved as well. Far rarer than the early Panteras, the 90 Si is also more valuable, and the last time we saw one sell at auction was three years ago when a 500-km car sold for $357,000 in Amelia Island. Given that result, it wasn't unreasonable for the consignor here to expect something close to that number in 2023. The reported high bid here is a tribute to the auctioneer's skill in coaxing bids out of a reluctant audience.
Lot # 82P 1914 Simplex 50hp Tourer, Body by Holbrook; S/N 1458; Engine # DI14; Dark Red, Gold coachlines/Black leather; Black cloth top; Estimate $1,250,000 – $2,000,000; Concours restoration 1 condition; With Reserve; Not sold at Hammer bid of $1,100,000. – 590/50 ALAM hp T-head four, 4-speed, dual chain drive, dual right sidemount with mirror, electric Klaxon horn, Bosch headlights, Rudge-Whitworth centerlock wire wheels – Known history from new with many miles and Glidden Tours in the 1950's, 60's and 70's. Original coachwork. Replacement crankcase (original included), cylinders, pistons and rods within the last few years. Fresh concours cosmetic restoration following earlier mechanical restoration. Flawless paint, bright brass, unblemished upholstery and top. A magnificent automobile. – This is the sort of marvelous old car we've come to expect from Bonhams and our expectations were disappointed in no way except that it didn't sell. It is a legendary car with over 70 years of tours and events under its wire wheels.
Lot # 86 1934 Alfa Romeo 6C 2300 Siluro Spider, Body Touring; S/N 700187; Engine # 721202; Red/Beige leather; Black cloth top; Estimate $300,000 – $400,000; Rebodied or re-created 3 condition; No Reserve; Hammered Sold at $170,000 plus commission of 12.00%; Final Price $190,400. – RHD. 2,309/119hp, 4-speed, cycle fenders, dual aeroscreens – Unknown early coachwork or history, rebodied by Neil Twyman for Rupert Cleverly in the 80's in the style of the original 6C 2300 prototype. Good older paint with tiny rust tracks on the rear deck. Worn and stretched old upholstery. Aged engine compartment. – Another example here at Bonhams Quail of the vision and creativity of Vittorio Jano. Rebodied with a replica Siluro (Torpedo) Spider body during restoration and attractively presented but showing its age. It was sold by RM at London in 2012 for $451,108 (£280,000, this result is £149,500) and has fallen from favor since then much to the good fortune of the surely happy buyer here.
Lot # 88 1951 Allard J2X Roadster; S/N 3074; British Racing Green/Black leather; Estimate $300,000 – $400,000; Older restoration 3+ condition; No Reserve; Hammered Sold at $310,000 plus commission of 11.61%; Final Price $346,000. – LHD. 331/250hp Chrysler Hemi, 3-speed manual, painted wire wheels, Dunlop Racing tires, single sidemount spare, dual exhaust, fire bottle, Stewart Warner water temp, oil pressure, and oil temp gauges. – Represented as owned by Steve McQueen from 1962 until he died, but unclear how much he used it. Clean wheels and tires. Older body paint with a deep scratch on the nose. Cracks in the Allard badge on the nose as well. Good, lightly worn interior. Chassis is painted black instead of silver. Tidy but used underneath. A solid, usable Hemi-powered J2X for tours, but of course the big draw is the supposed McQueen history. – When people think of big "celebrity premium" in terms of classic car prices, Steve McQueen and Elvis Presley are probably the first names to come to mind. Largely because they were both very famous and very well-known car guys, but also because they owned a lot of vehicles. There's also no exact science to celebrity premiums. A McQueen connection can make a huge difference, but it's not a guarantee, and despite some enthusiastic bidding this car sold at right about its #2- value. It could easily have sold at this price if it had been owned by someone named Steve McDonald.
Lot # 89 1971 Surtees-Chevrolet TS8 Formula A/5000 Single-Seater; S/N TS8008; Red/Black; Estimate $125,000 – $150,000; Competition restoration 3 condition; With Reserve; Hammered Sold at $125,000 plus commission of 12.00%; Final Price $140,000. – 302/465hp Chevy, 4 Webers, 5-speed Helland DG300 transaxle, RHS aluminum heads, modular 5-bolt alloy wheels, Hoosier slicks. – Raced by the Champ Car team in F5000 by Sam Posey and John Surtees… probably, but the history is interchangeable. Labeled "Do not start!", it is a used but maintained vintage race car needing comprehensive attention before exploring its on-track potential but having all the important bits. – A lackluster history both for this car and for its counterparts in Europe makes this attractive at a modest price like this but not a cherished object.
Lot # 90 1997 Subaru Impreza 22B-STI Coupe; S/N GC8061819; World Rally Blue/; Estimate $450,000 – $550,000; Unrestored original 2- condition; With Reserve; Not sold at Hammer bid of $365,000. – 2,212/276hp, 5-speed, gold BBS wheels, all-wheel drive. – Prototype, number 000/400, Tokyo Motor Show display car, the only 22b produced in 1997. Good original paint overall, with a bit of light hazing to the finish, the interior is in a and appears unused, the engine and underside are all well cared for and exhibit little deterioration. The 70km odometer reading photographed in the catalog is reasonable. A beautiful, well cared for original car with excellent provenance to boot. – A bit like an Impreza rally car for the road as well as a celebration of the 40th anniversary of Subaru and the company's third straight WRC title, the 22B is top dog for deep-pocketed Subaru fans. And while turning down $365K for a '97 Impreza might seem crazy, remember that a regular production model sold for $317,555 on Bring a Trailer two years ago and an ex-Colin McRae 22B just sold for £480,500 in the UK, so it's easy to see why the consignor here expected more. That is, even though this very car sold for $140,422 (£113,500 at the time, this result is £286,500) at Bonhams Goodwood Members Meeting sale in 2017, a useful benchmark for the value trajectory for rally cars in general and for Japanese performance cars specifically. That it didn't sell at this price is even more telling although its originality is probably unduplicated.
Lot # 92 1904 Pope-Toledo Two-Seat Racer Runabout; S/N Engine No. 124755; Engine # 124755; White/Black; Estimate $200,000 – $300,000; Unrestored original 3- condition; With Reserve; Not sold at Hammer bid of $150,000. – RHD. 210/24 ALAM hp four, 3-speed, wood spoke wheels, double chain drive, electric starter. – An assembled car with an engine reputedly sourced from period racer Herb Lytle of "unusual dimensions" (the engine, not Lytle.) Provenance includes Dick Teague, Buck Boudeman, Tim Moore and Dick King. Dry, discolored paint. Good upholstery. Dull brass. Road grimy chassis. Crude but purposeful. – For a quarter of the reported high bid here and enthusiast could buy a hot rodded Model T with overhead valves and even a real sliding gear transmission. The convoluted history (such as it is) does not commend this Pope-Toledo to most collectors.
Lot # 93 1969 Mercedes-Benz 300SEL 6.3 2+2 Coupe, Body by Pininfarina; S/N 10098112004017; Engine # 10901812003924; Gray/Brown; Estimate $400,000 – $600,000; Visually maintained, largely original 4+ condition; With Reserve; Hammered Sold at $350,000 plus commission of 11.43%; Final Price $390,000. – 6,329/300hp, automatic, wheel covers, whitewalls, power windows, Becker Mexico radio, leather seats. – One-off commissioned by a Dutch businessman who was bound and determined to have a two-door 300SEL 6.3, and paid Pininfarina a ton of money (400,000 Dutch guilders, apparently) to make it happen. Today it's in original, and somewhat neglected condition. The original paint is faded and cracked, while the chrome is deplating with rust showing on the bumpers. Rust is showing on the sills as well. The interior is decent but aged. The wheels, tires and underbody are tired, also. Not Pininfarina's prettiest work and it will be a labor of love to get it back to its original glory, but Bonhams still estimates this unique Mercedes will bring a big premium over the visually similar, also Pininfarina-styled, Rolls-Royce Camargue parked behind it. – This is one-of-one in a good way, a unique Pininfarina coachbuilt body on the ultimate super-sedan of the Sixties, and it brought roughly ten times that Camargue.
Lot # 99 1980 Mercedes-Benz 500TE AMG Station Wagon; S/N 12319012015685; Signal Red/Black; Estimate $75,000 – $100,000; Enthusiast restoration 3 condition; No Reserve; Hammered Sold at $35,000 plus commission of 12.00%; Final Price $39,200. – 4,973/240hp, automatic, power Recaro seats, Becker Europa radio, red spider AMG Penta alloy wheels, tool kit. – Paint has hazing and noticeable chips where the hood meets the fender and on the passenger's side. The interior shows no significant wear, and the engine compartment is clean but not excessively detailed. The underbody is tidy but the exhaust does show surface oxidation. Represented as restored, and some areas really do present very well, but others beg the question what was actually done. It's an interesting car that would be more appealing with a consistent finish and it is a subsequent upgrade to AMG specs of a 500TE, not the pre-production car described in the catalog. – While this is a hot rod with AMG bits it's still a hot rod and the price it brought is appropriate for its origin and equipment.