December 7, 1941 is, "a date which will live in infamy" and while that may also seem to be true for Bonhams December 7, 2019 auction at their New Bond Street headquarters the result there has prior parallels for this venue that makes it less of a bellwether than it might seem.
In any event, however, a 37% sell-through and paltry $7,077,564 million total is nothing to crow about, especially when one lot, the no reserve Aston Martin DB4 GT s/n 1069R sold for $3,107,161, accounted for 43.9% of the total.
Last year's Bond Street auction had a similar pattern with a single lot, the ex-Albrecht Goertz BMW 507, selling for $3.023 million, 46.7% of the sale total.
The UK £ also was (relatively) strong amid indications of a Tory victory in the general election coming up just five days later.
The quality and value of the auction consignments were good with four lots bid to over $1 million with only one selling, comparable with 2018 when there were six lots bid to over $1 million and only one selling.
The report here (observed on-site by Chris Sharpe) thus is a nice selection of interesting and historic cars but a discouraging repetition of "Not sold at a hammer bid".
No matter how it is sliced, this was not an auspicious way to end the 2019 auction calendar.
All attention now turns to Florida where Mecum Auctions kicks off 2020 with twelve days of pretty much nonstop selling followed by the annual Arizona auction gauntlet. See you there!
Year
Cars Sold/ Offered
Sale %
Sold < Low Est
Sold > High Est
Average Sale
Median Sale
Total $
Exchange Rate
2019
13/35
37.1%
69.2%
0%
$544,428
$259,652

[47.7%]

$7,077,564
$1.3127
2018
10/29
34.5%
50%
0%
$647,636
$323,132

[49.9%]

$6,476,362
$1.2772
2017
21/35
60%
38.1%
9.5%
$577,176
$222,833

[38.6%]

$12,130,690
$1.3505
2016
17/28
60.7%
64.7%
0%
$319,669
$195,121

[61%]

$5,434,369
$1.2685
This report includes 33 of the 35 cars offered (Good job, Chris!). They are sorted in lot number order. The Preview was crowded and some of the cars are better shown in photos from Bonhams website.
Buyer's Premium is 15% of the first £500,000 and 12% of any excess.
---
Lot # 1 1965 Jaguar Mk 2 3.8 Sedan; S/N 233838DN; Grey Metallic/Red leather; Estimate $59,072 – $72,199; Recent restoration, 2- condition; With Reserve; Hammered Sold at $59,072 plus commission of 15.00%; Final Price $67,932. – RHD. 3781cc/220hp XK six, all synchromesh 4-speed with overdrive, stainless steel exhaust, Moto Lita wood-rimmed steering wheel, reclining seats, heated rear window, four-wheel Coopercraft disc brakes, alternator electrics, new chrome wire wheels, power steering, original hood and trim included, JDHT Certificate. – Restoration carried out in 2014 costing £30,000. Built as a Coombes evocation with louvered hood. Good general paint finish. The door panel fitments need work. They are uneven on the bottom edges but, in fairness, these doors weren't a great fit when new. The seat leather is of great quality but slightly creasing from light use. Exterior chromework and trim are superb. A good looking, well-done and usable bank robbers' dream drive. – The bidders executed a thoughtful balance between the enhanced drivability of this Mk 2 with its healthy 3.8 liter engine and chassis modifications. Its departures from stock might have impinged upon its collector value but it is a sound and drivable car at a realistic price in this transaction.
Lot # 2 1933 Rolls-Royce 20/25hp 3-pos. Drophead Coupe, Body by Vanden Plas; S/N GRW44; Van Dyke Brown, Caramel/Tan leather; Estimate $144,397 – $170,651; Older restoration, 2 condition; With Reserve; Hammered Sold at $109,610 plus commission of 15.00%; Final Price $126,052. – RHD. 3,669cc six, 4-speed manual with synchromesh on 3rd and 4th gears, automatically opening radiator cooling louvres controlled via a thermostat, hydraulic drum brakes with gearbox driven mechanical servo assistance plus cable hand brake, One-Shot Bijur centralized chassis lubrication system, worm and nut steering, chassis-mounted front driving light, sidemount spare, landau bars, sun visor strip, steel wheels with hub caps, driver's side spotlight, semaphore indicators (disconnected), flashing indicators, tool roll in trunk, tool kit under hood. – One of 3,827 examples made, an amazing 70 percent of which survive. Rolls-Royce's most successful interwar model. Represented as original chassis, body and engine. Extensive history file. Restoration in the last few years with 4,000 miles since engine rebuild. Recent stainless steel exhaust, radiator, steering box, high ratio rear axle. Concours wins a few years ago. Clearly restored to a high standard and the finish is holding up well. Very well presented engine bay with good detailing. The seat leather is of superb quality and is maturing nicely with only slight folds appearing. Used sparingly and stored well, a fine carriage to be proud of. – Sold by Bonhams at Hendon in April 2006 for $100,792 (£56,500 at the time, this result is £83,500 all-in.) Since then there has been much work resulting in the present high quality presentation and a string of show awards. The highly adaptable 3-position coachwork is attractive and comfortable and the car is an excellent value at this price.
Lot # 3 1965 Aston Martin DB5 Coupe; S/N DB52026R; Goodwood Green/Black Connolly leather; Estimate $616,969 – $721,985; Visually maintained, largely original, 3- condition; With Reserve; Not sold at Hammer bid of $577,588. – RHD. 3,995cc/282hp, electronic ignition, ZF 5-speed, chromed 15-inch wire wheels, reclining seats, wool pile carpets, power windows, fire extinguisher, Motorola AM/FM radio. – Large history file including details of a factory-exchanged engine in 1974. Last major receipt for £15,000 was in 2014. Very poor paint finish that is uneven and badly applied. The windshield glass is delaminating. Reused old trim on every window. The front grille is evident of very high mileage use. The wheels are pitted and aged. The interior looks soiled and old. The odometer reads 95,111 miles, but it has already ticked over once so this is close to a 200k-mile DB5. Maintained, but very much a used car that has never been fully taken apart, but is in imminent need of restoration. – This car is represented as having enjoyed a "no expense spared stewardship," but that isn't the same as a restoration and it has clearly been used. Classic Aston prices have been soft in 2019, and worn ones like this will have a harder time finding a new home. Bonhams' presale estimate was modest, but the Bond Street bidders' assessment of the car was even lower. The consignor was seriously optimistic in declining to give the reported high bid serious consideration.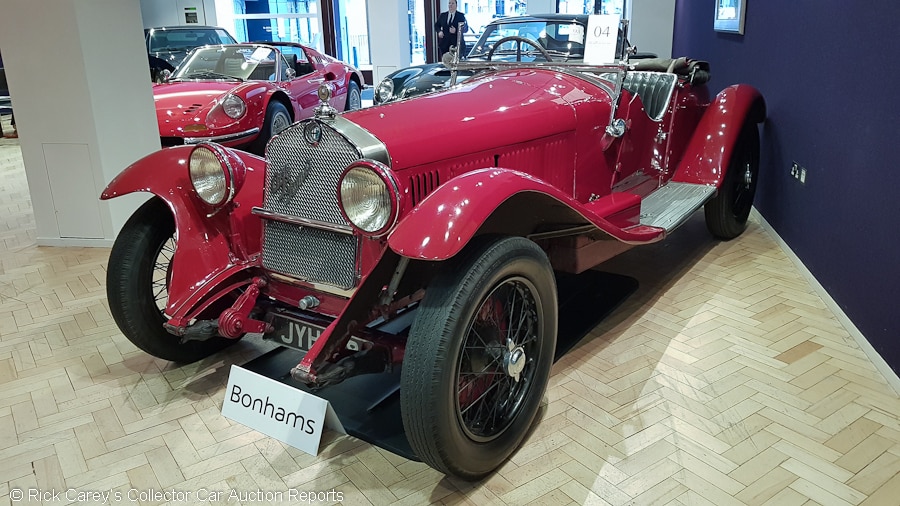 Lot # 4 1929 Alfa Romeo 6C 1750 Supercharged Super Sport Spider, Body by Zagato; S/N 0312931; Engine # 121215071; Red/Black; Estimate $1,050,160 – $1,575,240; Visually maintained, largely original, 3- condition; With Reserve; Not sold at Hammer bid of $971,398. – RHD. 1,752cc double overhead camshaft, supercharged, 84 bhp six, cutaway doors, alloy running board kick plates, black painted wire wheels, red painted finned drum brakes, friction dampers, dual rear spares, Bosch headlights, rolled up canvas top with retaining straps. – From the estate of Michael Hirst who acquired it in 1961. Represented as an original chassis and original Zagato body, having been taken back to the factory in the 1970s for verification. Letters from Alfa Romeo included in the sale. Fitted with a replacement engine and gearbox. It had a Ford V8 during the 1950s. Little used recently. The bodywork is uneven and knocked about. The paint finish is very poor with degradation on the scuttle top in front of the windshield. There are poorly done, hand painted touch ups that are eyesores on a car this special. The footwell alloy sheet flooring looks original and is scraped and dented extensively. The running board step plates are in the same used condition. The chassis looks straight but with surface corrosion painted over. The headlamps are yellowing. The seat leather is scratched and cracked. Clearly a hard driven trials car that is due for some time and care considering its pedigree and quality after long term ownership and enthusiastic use by an Alfa specialist. – Any supercharged 6C 1750 with a long, documented history and original Zagato Spider coachwork is worth seven figures US even with a replacement engine and gearbox, but this reported high bid is so close that it begs for the executors of Mr. Hirst's estate to consider the wisdom of holding out for what must have been little more than rounding error more.
Lot # 5 2001 Ferrari 550 Maranello Coupe; S/N ZFFZR49C000122982; Grigio Titanio/Bordeaux leather; Estimate $118,143 – $157,524; Unrestored original, 2- condition; With Reserve; Hammered Sold at $137,834 plus commission of 15.00%; Final Price $158,509. – RHD. 6-speed, red calipers, Daytona-style seats, original tools and manuals. – Represented as original and having covered 22,541 miles from new. Original finish paint with minor blemishes to the frontal area. Some heel scuffs in the doorways and on the pedals. The driver's seat shows light use that matches the mileage. A used 550, but a lightly used and well-kept one with an all-important full service history. – The combination of great colors, right-hand drive and service history did this car a lot of favors. And since 550s are so usable, this one's significant but still low mileage is encouraging for someone who wants a 550 to actually drive and enjoy rather than take up space in a collection. At least two such enthusiasts must have been in the seats at Bond Street, because this is a very strong result in an otherwise soft Ferrari market.
Lot # 6 1994 Aston Martin Virage Volante; S/N SCFDAM2C9PBR60107; Special British Racing Green (non-metallic)/Mushroom light beige Connolly leather; Green Everflex top; Estimate $295,358 – $360,993; Unrestored original, 2- condition; With Reserve; Hammered Sold at $269,104 plus commission of 15.00%; Final Price $309,469. – 6-speed ZF manual, five-spoke alloy wheels, tonneau cover, front lip spoiler with fog lights. – Formerly the property of HRH The Prince of Wales (Prince Charles), from new until 2008. One of around 230 examples made. Last serviced at Aston Martin Works seven years ago. Converted to 6.3 specs by Aston Martin Works Service but retains the narrower bodywork. Represented as 34,849 believable miles. Lots of fine swirl scratches in the paint, particularly on the hood. The leather is not scratched or marked and has been recently cleaned, but is clearly ageing. The wheels have been refurbished to a good standard. The tonneau cover is worn and in poor condition. The royal connection makes it noteworthy, as does the monster engine under the hood, but condition-wise it's a used '90s Aston. – Sold by Bonhams at their Aston Martin auction in May 2012 for £119,100 ($191,500 at the time). The Royal Family hasn't had the best time in the press during 2019, but Prince Charles isn't Prince Andrew and the ownership history was enough to push this car to about £100,000 over what other Virages in similar condition bring in the UK and a handsome profit from 2012's price.
Lot # 7 1974 Ferrari Dino 246 GTS Spider; S/N 07702; Rosso Corsa/Black leather; Estimate $498,826 – $603,842; Older restoration, 2- condition; With Reserve; Not sold at Hammer bid of $459,445. – RHD. 2,419cc/195hp, Daytona seats, flared wheel arches (aka "chairs and flares"), power windows, original tool bag, jack, warranty card, handbook, and warning triangle, original radio and steering wheel (not fitted). – One of five right-hand drive chairs and flares cars imported to the UK. Represented as a matching numbers car with 47,217 miles, restored in 2013 by Carrozzeria South Africa. Ferrari Classiche approved. Exported to South Africa in 1984 and brought to the UK in 2018. Excellent paintwork with smooth finish and only one tiny stone chip. The wheels are original but badly prepped with pitting showing and too much paint. Exterior trim is superb. Interior has been retrimmed to a high standard, and the black seat leather is exemplary. There are damage marks around the targa panel fitment locations but this happens on most every car with a targa roof. Well presented with light use, and ideally configured for this market. – Being an original righthand drive example and one of only 5 built with chairs and flares is worth something in the U.K. market, although declining the reported high bid is, even with those important qualifications, an optimistic assumption by the consignor.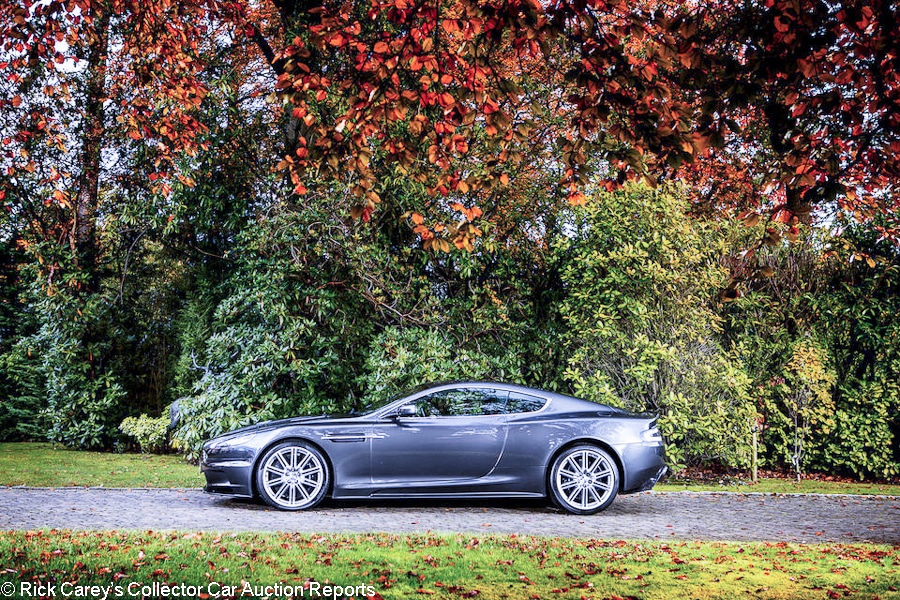 Lot # 8 2009 Aston Martin DBS V12 Coupe; S/N SCFAA05D49GE00665; Meteorite Silver/Obsidian Black leather with silver stitching; Estimate $131,270 – $170,651; Unrestored original, 2 condition; With Reserve; Hammered Sold at $128,645 plus commission of 15.00%; Final Price $147,941. – RHD. 5935cc/510hp V12, 6-speed, adaptive damping system, P Zero tires, vented and drilled carbon ceramic brakes, carbon fiber door cappings, piano black interior woodwork. – Serviced nine times in 2,974 miles from new. Fluids deteriorate so a yearly service, regardless of the low miles driven, shows good ownership. No outward signs of this being a 10-year-old car. The paint and exterior in general are faultless. The only signs of use are on the driver's seat and doorway. The footwell mats show some use but it's minimal. A barely used and carefully kept Aston. – The DBS was a Bond car (Quantum of Solace), and this one has the distinction of a manual gearbox, low mileage and a careful owner, but not even all of that can prevent the unstoppable force of depreciation that hits nearly every late-model Aston. In the U.S., this car would have had an MSRP of about 270 grand, but in today's market this is a reasonable result for a low-mile DBS on either side of the Atlantic and a thrilling car for the money.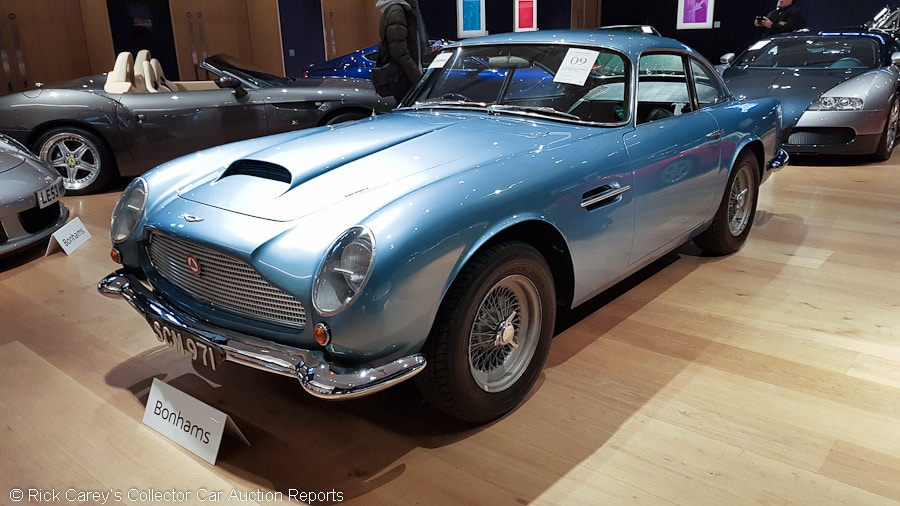 Lot # 9 1961 Aston Martin DB4 GT Lightweight Coupe; S/N DB4GT0169R; Elusive Blue/Black leather; Estimate $2,625,400 – $3,938,100; Visually maintained, largely original, 3- condition; No Reserve; Hammered Sold at $2,756,670 plus commission of 12.71%; Final Price $3,107,161. – RHD. 4.2 liter upgrade by AM Works Service in 2007, triple Webers, ZF 5-speed, painted wire wheels, heater, Motorola radio, glass rear and side windows (originally Perspex). – From the estate of the late Malcolm Cramp, ex-Phil Scragg. In current ownership since 1965 and regarded as the 'Missing Lightweight'. Uneven paint on the hood with chips and marks particularly near the badge. The bumpers are in poor condition and need rechroming. The inside of the headlights bowls are silver painted but very poor, flaky and rusty. The wheels are in bad shape. There are scratches in all the glass. The interior is worn and soiled, with heavy cracks in the leather. Under the hood, the theme of deterioration continues with paint peeling on the brake master cylinder. The petrol pipes to the carburetors are yellowed and need replacement. A poorly maintained car having had average old respray and lacking care. Even so, it's an important, rare and highly desirable car with lots of potential. – While this is a handsome price for an aged and deteriorated DB4 GT Lightweight its preservation and limited ownership history more than support the result here. It could, and should, be thoroughly serviced and refreshed mechanically while leaving its admittedly tired cosmetics intact to continue its preservation and make it usable.
Lot # 10 2001 Ferrari 550 Barchetta Pininfarina Convertible; S/N ZFFZR52C000124416; Rosso Corsa/Cuoio Natural Medium Brown leather; Estimate $328,175 – $393,810; Unrestored original, 2 condition; With Reserve; Not sold at Hammer bid of $275,667. – RHD. 6-speed manual gearbox, Scuderia shields, numbered and signature dash plaque, roll hoops, magnesium alloy wheels, original helmets with carrying bags, racing harnesses, remote alarm, books and tools. – One of 448 examples made plus 12 pre-production prototypes. Resided in South Africa and brought to the UK in 2018. Maintained by Ferrari specialists from new and recently by DK Engineering. Very good paint with only fine scratching that could be professionally polished out as well as a very minor graze mark to a front alloy wheel edge. The interior is clean, fresh and unmarked. An unrestored, original example represented with 7,195 believable km. – Created for Ferrari's 70th anniversary as a true Barchetta with no top (they did include a handkerchief useable up to 70 mph) and introduced for the final year of the 550 series, the Barchetta Pininfarina typically commands somewhere around three times as much money as a standard 550 Maranello. Collectible Ferraris have struggled this year, and this is another example of the widening gap between sellers' expectations and what buyers are willing to pay. This is a reasonable offer, even for a righthand drive Ferrari in the UK market.
Lot # 11 1939 Frazer-Nash BMW 328 Roadster; S/N 85411; Cream/Red leather; Black top; Estimate $853,255 – $1,115,795; Recent restoration, 2- condition; With Reserve; Not sold at Hammer bid of $800,747. – RHD. 1,971cc/80hp six, 3 carburetors, rack and pinion steering, enclosed rear-mounted spare, twin leather hood straps, drilled disc centerlock wheels painted white, split windshield with side screen deflectors, fender skirts, fire extinguisher, racing Bristol gearbox fitted, original Hurth gearbox included in the sale. – This car was imported to the UK in 1939, which was unfortunate timing and it was not released from customs until 1946, when it received a body at Frazer Nash. Owned since 1988 by Alastair Pugh. Professionally restored in 2018 after a crash at Silverstone in 1996. Extensively campaigned in Euro Classic racing. Large history and online files available. The paint finish is very good for this era of car, better than when new. The exterior is freshly done and excellent. The screen trim and other attachments are original and in fair to good condition. The interior is superbly presented, good leather and carpets. The headlamps are darkened and yellowing. There are minor chips to wheel knock on badges. This car makes a handsome first impression and doesn't disappoint upon familiarity. Attractive, significant and usable on casual drives or premier vintage events. – Eligible for pretty much any event it wants to attend and developed to a high standard that has proved its competitiveness in races and trials over many years, this BMW with its British AFN bodywork would be a sound value at the low estimate.
Lot # 12 1966 Aston Martin DB6 Mk I Vantage Coupe; S/N DB62650R; Silver Birch/Black Connolly leather; Estimate $341,302 – $406,937; Recent restoration, 2- condition; With Reserve; Not sold at Hammer bid of $275,667. – RHD. Enlarged 4.2-liter Vantage-spec engine with triple Webers, ZF 5-speed, retro look modern Bluetooth audio unit, original manuals and tool roll. – Originally a Sage Green car ordered new in Vantage specs but with the optional Borg-Warner automatic, an odd combination. Regularly enjoyed by the original owner, who racked up 52,000 miles until he passed in 1984 (the odometer currently reads 68,116). Recent three-year rebuild by Steel Wings of Pennsylvania finished in 2018, including changing the original automatic to a correct ZF manual and enlarging the engine to 4.2 liters. Paintwork and panel finish are good with only minor faults and uneven surfaces. The engine is detailed without being polished. The carburetor fuel pipes have been replaced with modern materials which is also acceptable considering modern fuels have to be used. Original leather interior retained with aged patina. A beautiful shape, and in its current state is more a ready-to-go event car than it is a show queen. – Sold by Bonhams at the Simeone Museum auction in 2013 for $198,000 before the recent refurbishment, rebuild and conversion to 5-speed gearbox and 4.2 liter displacement, the seller had good reason to expect more for the vast amount of money spent. The bidders, on the other hand, apparently considered the color change and upgrades skeptically. A reasonable value lies somewhere between the conservative bid here and the pre-sale low estimate of $341,000 (£260,000).
Lot # 14 1973 Porsche 911 Carrera RS 2.7 Lightweight Coupe; S/N 9113601097; Tangerine, Black Carrera script/Black; Estimate $984,525 – $1,115,795; Older restoration, 2- condition; With Reserve; Not sold at Hammer bid of $813,874. – 2687cc/210hp, Bosch mechanical fuel Injection, Fuchs wheels. – From the collection of musician Jay Kay. Represented as original chassis and engine, rebuilt by Maxted-Page in 2015 to a blueprinted racing standard. Delivered new to Germany in left-hand drive. Inspection report by Porsche specialist Autofarm concluded this example is "generally correct and attractive example of this important model". Represented as matching numbers. The paint finish is to a good standard but with fine swirl marks, clearly an older respray. The exterior trim has been refitted without refurbishment. The wheels are perfect, unmarked. A great car and clearly desirable but didn't not fresh or outstanding. – A better car tan the bid it received here. Any RS 2.7 Lightweight in this condition should command a lot closer to a million dollars.
Lot # 16 2004 Porsche Carrera GT Targa; S/N WP0ZZZ98Z4L000146; GT Silver Metallic/Ascot Brown leather; Estimate $853,255 – $984,525; Unrestored original, 2 condition; With Reserve; Not sold at Hammer bid of $735,112. – Bose audio system, carbon fiber shift knob, more powerful battery, headlight cleaning system, luggage set. – From the collection of musician Jay Kay. Showing 2,447 miles but the speedometer has been replaced and total miles are unknown. The paintwork is unmarked. The interior shows no visible signs of use. The driver's seat bolster is creased but not marked. The wheels are in as new condition. The only minor issues are debris in the side door vents, water stains on the wheel hubs and road dust in the wheel arches, all of which are fixable. – A slightly modest but fair offer for a Carrera GT that could have been taken without too much regret.
Lot # 17 1959 Porsche 356B 1600 Super Cabriolet, Body by Reutter; S/N 154172; Silver Metallic/Red leather; Black top; Estimate $144,397 – $170,651; Cosmetic restoration, 2- condition; With Reserve; Not sold at Hammer bid of $111,580. – 1,582cc/75hp, steel wheels, boot cover, gold brightwork, Blaupunkt radio, Porsche CoA documented – Sold new in San Antonio, Texas. Presented in its original color. £15,000 spent on refurbishment since 2012. Superb paint and panel finish. The windshield trim and all other exterior trim are excellent. Excellent interior with only slight creasing to the center of the driver's seat. The engine grille cover has minor indentations. Wheels and tires are faultless. A very good showing. Not fully and meticulously restored, but got major attention when necessary and has enjoyed careful ownership from new. – The missing element in this transaction is any representation that this attractive 356B Cab has its original engine, or even that it started life as a Super. Even at that, though, this is a highly conservative offer for a quality car.
Lot # 18 1976 Ferrari 512 BB Berlinetta, Body by Pininfarina; S/N 19885; Rosso Corsa, Black sills/Cream Connolly leather, black bars; Estimate $236,286 – $315,048; Visually maintained, largely original, 2- condition; With Reserve; Not sold at Hammer bid of $196,905. – RHD. Five-spoke gold painted magnesium alloy wheels, single blade windshield wiper, Cinturato tires, air conditioning, Koenig wheels and rear fender flares. – The first right drive example, one of 101 right-drivers made and just 929 overall. Ex-Maranello Concessionaires demonstrator and press car. Originally painted Azzurro Metallizzato, later updated with wide wheels and a wider rear body with exaggerated flares. Very good paint. The wheels look freshly painted. The exterior trim is slightly aged. The badges require refurbishment. The seat leather is of a great quality and has correct looking creases on the center bars and base squabs. Showing 38,514 believable miles. Never restored but never needed to be and recently treated to an extensive service. Attractive, usable and relatively significant. – The song from this BB's 5-liter flat twelve with its unmuffled dozen intake trumpets must be sublime. Despite the modifications and color change the history of this example is as impressive as its condition and it would be a sound value at the pre-sale low estimate.
Lot # 19 1935 Auburn 851 Supercharged Boattail Speedster, Body by Bohman & Schwartz; S/N 33515E; Black, Red/Black leather; Estimate $853,255 – $984,525; Older restoration, 3+ condition; With Reserve; Not sold at Hammer bid of $761,366. – Single Stromberg downdraft carburetor with Schweitzer-Cummins centrifugal supercharger, wire wheels with hubcaps and whitewalls, fender skirts, driving lights, suicide doors, fender skirts, Woodlite headlights. – Ex-Barbara Hutton car (bought with dime-store money for her then-husband Prince Alexis Mdivani) with body modifications by Bohman & Schwartz. Seven owners from new. Professionally restored in 2013 with over £100,000 in total. Paintwork is average and slightly aged with marks and swirls. Exterior chrome is good with only minor fine scratches. The seat leather is worn out and very aged, with creases and cracks. The carpets are worn through at the heel area and look rough. The hood side-mounted "Super Charged" badge is in poor condition as well. An elegant, impressive car with some celebrity cachet, but disappointing considering how recent its restoration was. – Neither fish nor fowl, many of the distinctive Bohman & Schwartz features, particularly the grille, integrated headlights and upswept front bumpers, have been returned to stock Auburn appearance during the most recent restoration. The Woodlite headlights and cow-catcher grille guard are particularly jarring. Its history includes a stint at Pacific Auto Rentals where it became something of a showpiece for Hollywood stars. Its deteriorated condition and mixed motifs make the reported high bid here a generous one.
Lot # 21 2001 Ferrari 550 GTZ Barchetta, Body by Zagato; S/N ZFFZR52C00124138; Dark Silver-Grey/Magnolia cream leather; Estimate $656,350 – $918,890; Unrestored original, 2 condition; With Reserve; Hammered Sold at $656,350 plus commission of 15.00%; Final Price $754,803. – RHD. 6-speed manual, magnesium alloy 18-inch modular wheels, leather-covered roll hoops, electric & hydraulic top designed by Zagato. – The only right-hand drive car of the three GTZ Barchettas built. Represented as an original with only 2,858 miles from new. Comes with a full picture file, an invoice for £500,000 from Zagato for the conversion, all MOTs and all service records. The body finish is excellent from a distance but at close inspection there's a 3-inch crack in the front left corner of the hood. The nose area has a handful of stone chips as well. The interior is good for a light color with minor signs of wear. Slight wear on the foot pedals. Attractive and rare, even unique in this configuration. It isn't as perfect as the mileage might suggest, but still more than good enough for a discerning Ferrari collection. – Aside from the remarkable resemblance of the tail to a '57 Corvette this is a rare and special Zagato-built one-off with unique features even among the three examples built. It is seriously special and Ferrari-sanctioned. The result here is about 3/4 more than a plain old 550 Barchetta, a modest premium for a bespoke, dramatically designed one-off Ferrari.
Lot # 22 2017 Ferrari F12 70th Anniversary Berlinetta, Body by Scaglietti; S/N ZFF74UC000230210; Extra Campionario Tour de France Blue./Beige leather; Estimate $393,810 – $525,080; Unrestored original, 2 condition; With Reserve; Hammered Sold at $387,247 plus commission of 15.00%; Final Price $445,334. – RHD. 6,262cc/730hp at 8250rpm, 7-speed dual-clutch, carbon ceramic disc brakes, SCM-E magnetorheological suspension, Pilot Super Sport tires, Scuderia shields, Yellow gauges, books and tools. – Number 62 of 70 unique F12 designs by Ferrari Tailor Made. 'The Scaglietti' is one of just five Ferraris built in this livery and the only F12 Berlinetta. The bodywork is unmarked with no stone chips to the low nose or wheel arch edges at all, partly thanks to the clear plastic layer on the front and whole lower half of the car. The wing mirrors also are plastic coated. Wheels and tires are unmarked and are perfectly useable. The driver's seat bolster and seat belt show no signs of wear. Looks brand new, as it should given the 518 miles. – This is a sound value for this F12 with its barely material miles. The Tailor Made "Scaglietti" livery is an undervalued attribute, especially for a righthand drive example in the UK where its rarity is even more apparent.
Lot # 23 1965 Mercedes-Benz 600 Pullman Limousine; S/N 10001412002025; Black/Black leather; Estimate $393,810 – $656,350; Recent restoration, 2 condition; With Reserve; Not sold at Hammer bid of $354,429. – 6332cc/300hp V8, Bosch mechanical fuel injection, pneumatic self-levelling suspension, additional rear-facing seats, division window, power seats, sunroof. – First registered in the UK in 2014 but no earlier history represented. Professional restoration in 2015 including a bare metal respray, mechanical overhaul, full engine rebuild, rechroming, new interior wood, new carpets and seat leather. The paint finish is excellent for such a large canvas. No obvious chips or marks at all and a recent polish has brought out a deep shine. The interior is top quality. The leather squab perforations are correct. The interior walnut veneer mouldings are correct and unmarked. It's superb work as these are extremely hard to get right. All the hydraulically-operated power equipment reportedly works. The main hydraulic pump can cost £10k plus from M-B only. A fantastic, fresh and beautiful long-wheelbase 600. – In recent years many, if not most, of these luxurious Benzes have disappeared into the hands of oligarch in Russia and Eastern Europe where they are a badge of wealth and power. The modest estimate and even more modest high bid may reflect the stagnant Russian economy and the sanctions regime which has targeted corruption there and in client regimes, factors entirely separate from the quality, luxury and performance of these magnificent automobiles.
Lot # 24 2014 Mercedes-Benz G63 AMG Brabus B63S-700 Widestar Utility; S/N WDB4532721X214921; Black/Black quilted leather; Estimate $131,270 – $170,651; Unrestored original, 2 condition; With Reserve; Hammered Sold at $124,707 plus commission of 15.00%; Final Price $143,412. – 5500cc V8, twin larger Brabus turbos, AMG's Speedshift Plus 7G-tronic automatic transmission, 4 wheel drive, separate chassis frame, larger compressor unit, free-flow metal catalysts, gold heat reflection system for intakes and charge-air tubes, Brabus ECU, Brabus ride control, Brabus valve control sports exhaust system, Brabus Race shift paddles, Brabus illuminated tread plates, Brabus monoblock 'R' 23″ forged wheels, Brabus headlights finished in black. – The G63 AMG Brabus B63S-700 Widestar earns its name from its wider fenders. The G63 AMG was a special edition with a MB 5.5L V8 and Brabus adding larger twin turbos. Having covered just 3,399 miles from new, the example is represented as original with documentation and MOTs to verify. The coachwork is well protected by wide wheel arches, well-polished and even on all panels. The diamond quilted stitched leather seats show no wear or use. – Too fast and flashy to go off-roading but still a G-wagon at heart, it's hard to say what one would do with this thing. The brash looks and the big price tag make it ideal for a Premier League footballer or an NBA or NFL star in the U.S.
Lot # 25 1991 Ferrari Testarossa Coupe, Body by Pininfarina; S/N ZFFAA17B000088491; Rosso Corsa/Black leather; Estimate $98,453 – $131,270; Unrestored original, 3+ condition; With Reserve; Not sold at Hammer bid of $85,326. – 5-spoke alloy wheels, air conditioning, power seats, all books and tools. – Sold new to Belgium and comes with service records in that region dated to 2007. Sketchy after that until 2018, with the last work at 60,178 kms including tires that have driven just over 1,000 kms. The odometer currently reads 61,294 km. The paint is bright and recently buff polished. Minor stone chips have been touched as well. The wheels look refurbished to a good standard with no curb scrapes. The interior leather looks very good with no creases or scratches on the seats, but there is general age on all touched surfaces. There are slight scratches around the ignition key hole. Some corrosion around the engine bay from heat damaging the chassis paint, then damp setting in. A well-cared for example that has been driven seemingly with care, but the mileage is relatively high and the signs of use are all there. – 'Soft' is perhaps to the best way to describe the Ferrari market in 2019, and newer more affordable models like the Testarossa have not been immune. The reported high bid might seem light at first glance, but for a used example in run-of-the-mill colors with the steering wheel on the wrong side for this market. The offer is not unreasonable.
Lot # 26 1953 Bentley R-Type Continental 4.6L Fastback Coupe; S/N BC20C; Masons Black/Burgundy leather; Estimate $1,181,430 – $1,443,970; Older restoration, 2- condition; With Reserve; Not sold at Hammer bid of $1,102,668. – 4-speed, driving lights, white painted steel wheels with black painted hub caps, fender skirts, front underdash pull out drinks shelf, original manuals. – One of only 208 produced. Long-term ownership from 1971-2014 with extensive documentation from that period. Restored in 2014-15 by Hexagon Classics with. The odometer shows 5,676 miles but should be more. The paint looks older than it is but there are no major blemishes. Original glass and exterior trim are original and worn. The interior has new-ish leather and the carpets are excellent. The bumper and grille chrome are aged but consistent to the average standard of this classic. A gorgeous car, but not as fresh-looking as the date of its restoration would suggest. – And if it was as fresh-looking as one would expect, the consignor would be justified in refusing this reported high bid. Given the car's minor issues, though, this is a realistic number worth taking.
Lot # 27 1988 Aston Martin V8 Vantage SIII Coupe; S/N SCFCV8IV7JTR12603; Black/Black leather; Estimate $393,810 – $446,318; Cosmetic restoration, 2 condition; With Reserve; Hammered Sold at $370,181 plus commission of 15.00%; Final Price $425,709. – 5340cc/410hp X-Pack engine, Bosch fuel injection, ZF 5-speed, air conditioning, alloy wheels, tinted windows, full Connolly hide trim, wool carpets, power windows. – Original factory-built X-Pack example producing 410 bhp, one of fastest cars of its day. Known history. Cosmetic restoration in recent years. Originally finished in Chichester Blue over dark blue but redone in black over black. The paint shines superbly and is perfectly finished. The panel gaps are just right and all panels are smooth in every direction and light. The exterior trim is superb. The window seal alloy trims are fresh and expertly fitted. All other brightwork is superb. The interior leather looks unmarked. The windshield wipers are incorrect items, a minor fault. A superb showing for a handsome and very cool car. – An excellent, ideally equipped car sold for an appropriately strong price. It sold for £38,900 ($62,400 at the time) at the Bonhams Aston Martin sale way back in 2003.
Lot # 28 1989 Aston Martin Lagonda Series 4 S4 Saloon; S/N SCFDL0157KTR13608; Black/Black leather; Estimate $91,889 – $157,524; Older restoration, 2- condition; With Reserve; Not sold at Hammer bid of $78,762. – TorqueFlite automatic, digital instrument panel, alloy wheels with center caps, front lip spoiler. – One of 105 Series 4 Lagondas and 34 in right-hand drive. Restored and resprayed in 2012-13 in current black instead of the original blue. £149,000 total invoices include an engine refreshment with new bearings, timing chain, etc. and an overhaul of the gearbox, brakes and suspension. The Lagonda was the first production car to use a digital instrument panel, a must have nowadays, although today's systems work better. Good general paint finish with minor marks to the nose. Lots of heel scuffs on the door sill tops and floor mats showing use. The restoration work was extensive and obviously very expensive, but it still presents like a lightly used Lagonda. – There are plenty of expensive cars that eventually become much cheaper to buy, but they never become cheap to own. The Lagonda's polarizing looks, even in the more rounded Series 4 versions, combined with often-failing and pricy to fix parts don't carry a ton of appeal and even the nicest Lagondas in the world aren't worth anywhere near what they cost new. The reported high bid here is on the soft side, and Bonhams sold a 1991 Lagonda in Goodwood a few months ago for £74,750 ($93,155) but that was a better, lower-mile example.
Lot # 29 1973 Citroen SM Coupe; S/N SBSD00SD1562; Gold metallic/Light blue velour; Estimate $52,508 – $78,762; Older restoration, 3+ condition; With Reserve; Not sold at Hammer bid of $45,945. – 3.0-liter engine, 3-speed automatic, steel wheels and hub caps, spare in trunk. – Restored by the previous owner, a Citroen specialist, approximately in the 1990s. Some history records and a CD Rom with information. An older restoration with some marks to the attractive frontal aspect. Well-presented interior with all the right materials used, just slightly ageing. Wheels (at least the parts you can see) are good and the tires have fair tread. Looks correct to the history description but it would be worth checking every single function of this complex voiture. – This SM sold for $33,810 at Artcurial Retromobile in 2014, which was a good value at the time. It has covered just 295 km since then, but there is more age apparent and the reported high bid was plenty to see it off to a new home, especially given the 2014 result as a reference.
Lot # 30 2010 Mercedes-Benz SLS AMG Coupe; S/N WMX1973772A003382; Gold/Red, Black leather; Estimate $196,905 – $262,540; Unrestored original, 2 condition; With Reserve; Hammered Sold at $168,177 plus commission of 15.00%; Final Price $193,403. – RHD. 6,208cc/563hp V12, AMG SPEEDSHIFT DCT 7-speed dual-clutch, reversing camera, auto dimming interior and exterior mirrors, seat memory, command apps with DVD changer, headlamp cleaning system, Bang & Olufsen sound, navigation, interior motion sensor, AMG ceramic brake system, adaptive rear interior light, universal comms interface, siren bracket, Bi-xenon headlamps, Adaptive brake light flashing and numerous other options. – One of 250 made in right-hand drive. Two owners and 7,223 miles from new. Sport Licht Super SLS aluminum construction. At the time, this M-B V12 had the world's most powerful naturally aspirated production series engine ever made. Paintwork is exemplary with no visible imperfections. The door sills have heel scuff marks and scratches from occupants getting in and out. The wheels are good with only slight water staining. Tires have good tread. An impressive car with minor use. – Sold post-block for a big discount from its original (probably extravagant) price and with minimal miles a strong value that makes a BMW Z8 in comparable condition look exuberantly expensive.
Lot # 31 2015 Porsche 918 Spyder; S/N WP0ZZZ91ZFS800118; GT Silver/Onyx Black leather piped in Acid Green; Estimate $1,115,795 – $1,247,065; Unrestored original, 2 condition; With Reserve; Not sold at Hammer bid of $1,050,160. – 7-speed PDK dual-clutch, polished alloy and black painted wheels, Acid Green brake calipers, black leather sports seats with matching lime green accents, battery charger and car cover. – Number 118 of 918 made. Factory options include antiglare dashboard. Porsche CoA. Freshly serviced by Porsche of Reading prior to sale. The exterior finish is faultless. The interior has only the slightest wear. The driver's seat lower bolster has some creasing because of the nature of the bucket seat. A sharp, barely used 174-mile 918 that almost makes the Carrera GT parked opposite to it look outdated. – Prices for the 918 have dipped since they first hit the collector market in 2017 and in today's electrified automotive landscape its hybrid powertrain isn't the technical marvel it was five years ago, but any good 918 should still command well over a million dollars.
Lot # 32 2016 Ferrari 458 Speciale Coupe; S/N ZFF78VHT9F0208710; White, Black stripes/Black Alcantara, Yellow leather; Estimate $315,048 – $367,556; Unrestored original, 2 condition; With Reserve; Not sold at Hammer bid of $275,667. – 4500cc/597hp, 7-speed dual-clutch, revised bodywork and active aerodynamics. – Delivered new to Bahrain and brought to the UK in 2018. Annual services for last four years despite only covering 400 kilometers (249 miles) from new. Near new condition with no obvious marks. The interior follows suit with just tiny signs of use on the pedals and maybe a minor scratch from a ring finger. Wheels and tires are unmarked. Appears to have been spared the good thrashing that most modern sports get, the ones sold in the Middle East not excepted. – The 458 Speciale, with its more powerful engine, forged wheels and improved aerodynamics, started at about 300 grand in the US, and unlike more run-of-the-mill production Ferraris it hasn't really depreciated. A barely-driven example like this would likely ask closer to 400 grand were it at a dealer.
Lot # 33 1933 Bentley 3 1/2 Liter Cabriolet, Body by Barker & Co.; S/N B17AE; Brown, Beige/Beige leather; Beige top; Estimate $170,651 – $210,032; Older restoration, 3+ condition; With Reserve; Not sold at Hammer bid of $137,834. – RHD. 3,669cc/110hp straight-six with two SU carburetors, 4-speed with synchromesh on 3rd and 4th, driving light, twin chromed horns, covered rear-mounted spare wheel, boot cover, body color wheel discs. – The eighth example of 2,411 produced between 1931 and 1939, rebodied with this Barker coachwork from B178DG in 1947. Th engine is from B78CR. Current owner from 1983. This old gent has such a bright coat on, it makes quite an impression but flatters to deceive and doesn't bear up to close scrutiny. There are chips and dings here and there. The metallic finish just doesn't sit right. The chrome is good but the headlamps are darkened in the lens. The cream leather would've looked very bright when new but it is tough to keep fresh, with soiling in the creases that's too hard to keep clean. A decades-old restoration in an odd color combination, but it's an inherently attractive and desirable car. – This Bentley may be showing its age in colors and presentation but the result here doesn't nearly sufficiently credit its low, attractive coachwork. The bidders couldn't detach themselves from all the updating (in cosmetics and after decades of limited use) or the replacement engine and bodywork. Their evaluation was entirely reasonable but at the reported high bid this would be a rewarding project and the lot was reported sold post-block at an undisclosed price.
Lot # 34 1964 Bentley S3 Drophead Coupe Adaptation; S/N B482EC; Masons Black/Magnolia leather; Black mohair top; Estimate $144,397 – $157,524; Older restoration, 3+ condition; With Reserve; Not sold at Hammer bid of $118,143. – Column shift automatic, seatback walnut drinks tables, walnut door cappings, front seat belts, air conditioning, Kenwood radio/CD stereo system, tools. – Owned by Jools Holland. Partial history file. Original Green log book. Registration not included in sale. First built as a saloon and finished in Tudor Grey over green. The circumstances around conversion to a drophead coupe are unknown, but today the car looks straight paneled and well presented. The driver's seat has creases from use but would buff up easily. Most everything else is lightly aged but presentable. A very elegant carriage and last of the old bloodline chassis. – It may be elegant, but it's also not a factory drophead, nor is it a Continental. Its value would be much farther into six figures if it were, and celebrity ownership isn't enough to offset its history. The reported high bid is low for a drop-top S-series Bentley, but reasonable. The celebrity ownership history makes a difference only to people who know who he is and what he has accomplished, both of which are significant in the UK.
Lot # 35 2006 Bugatti Veyron 16.4 Coupe; S/N VF9SA15B36M795015; Blue, Silver/Blue leather; Estimate $1,115,795 – $1,640,875; Unrestored original, 2- condition; With Reserve; Not sold at Hammer bid of $1,037,033. – 7993cc/1001hp W16, Michelin PAX run-flat tires. – One of 450 Veyrons made over a 10-year production run. The first UK-delivered example, and the 15th Veyron produced overall. H.R. Owen Bugatti London service history from delivery with only 16,270 kilometers (10,109 miles) covered. Confirmed as having no accident damage or paint repairs from new. Prodigious servicing costs include new tires in 2017 on an invoice for £31,716 followed by front radiators, prop shaft, air conditioning condenser, left-hand heat deflector, and front handling flaps in 2018 at a cost of £35,310. The front grille is pitted and marked from enthusiastic driving. The front paintwork is in good order so must've been professionally touched up. The rear roofline alloy scoops have marks and abrasions which distract the eye. The expensive tires are from week 36 of 2016 so should useable for the foreseeable future. The interior is superb and unblemished. Slightly dulled and used appearance aside, this car is still just as striking as its service bills. – Now that its replacement the Chiron is out and it's no longer king of the hill in terms of top speed, Veyron prices have softened recently, at least in those rare instances when they do come to market. That said, any decent and fully serviced car should command closer to one and a quarter million. This one hammered not sold at Monaco 2012 at an $840,905 hammer bid at the time, another soft number. The buying pool for used Veyrons is limited, so there aren't many places to find a new owner.
Lot # 36 2013 Alfa Romeo 8C Spider Roadster; S/N ZAR92000000049305; 8C Red/Charcoal leather, Red stitching; Black mohair top; Estimate $229,723 – $262,540; Unrestored original, 2 condition; With Reserve; Hammered Sold at $225,784 plus commission of 15.00%; Final Price $259,652. – 4,691cc/450hp, 6-speed automanual gearbox, carbon fiber dashboard, reclining carbon fiber sports seats, carbon ceramic brakes, carbon fiber shift paddles, automatic xenon headlamps, carbon fiber rear diffuser, full charcoal leather with red stitching. – One of 500 8C Spiders built. Full service history from Ferrari/Maserati Swindon. The last service was 3,000 miles ago and the car currently shows 7,675 miles. Any stone chips have been professionally retouched to the highest standard. The interior shows zero signs of use which is incredible in itself. The wheels, tires and wheel arches show no chips or marks. A fastidious owner and careful use have left this car looking nearly new. – Although the 8C looks better as a coupe (as most cars do), the Spider is still a staggeringly attractive car, and an open roof only lets occupants hear the 4.7-liter Ferrari-built V8's divine soundtrack that much better. Other 8Cs have popped up at collector car auctions on both sides of the Atlantic, including a 950-mile Spider sold for $390,500 in Amelia Island 2017 and a 600-mile coupe sold for $324,00 in 2019, also at Amelia. The UK market doesn't appear to clamor as much for these cars as Americans do (not to mention being lefthand drive in a righthand drive environment), as this result is just under Bonhams' presale low estimate and not far off from the £174,000 base price this car carried when new.