One of the pleasures of walking the fairways and lawns at Amelia Island, Greenwich, Concours d'Elegance of America and Pebble Beach is that old friends always turn up.
There are human old friends, and we spend time catching up on business, trends, neat cars and families.
And there are car old friends. It's like walking into a 20th (or in my case 50th) reunion and thinking, "I recognize that character, but from where and when?"
I made it my business at Amelia this year to reconnect with cars that were familiar. Some I recognized instantly. Others were more vaguely familiar. Some triggered visual recognition. Others connected through the histories on their placards.
A few were just striking histories or visual presences and only later did the connection become clear.
These photos and observations are a walk through the 2017 Amelia Island Concours d'Elegance on this journey.
First and foremost there was the winner of Amelia's dual Best in Show trophy, the 1939 Alfa Romeo 8C 2900B Lungo Touring Spider s/n 412041. Never a walk-by (to use Don Williams' characterization), this is a beautiful, spectacular, fast, luxurious, historic automobile. It was RM Sotheby's showpiece in the 2016 Monterey auction where it sold for $19.8 million. Already a Gwenn Graham Award winner at Pebble Beach in 1999 and driven some 12,000 miles since then, it stood out from everything on the Amelia Fairway even perched at an uncomfortable angle on a hillside.
It's not a tale of relentlessly escalating prices, either.
The lovely 1938 Delahaye 135 MS Coupe by Figoni & Falaschi s/n 60012 was sold by Bonhams at Quail Lodge (before restoration) in 2006 for $1,712,000, then sold by RM in Arizona in 2013 from the John O'Quinn estate (after restoration) in 2013 for $1,540,00 and at RM Amelia in 2015 for $990,000. It's a gorgeous automobile with power, style and panache.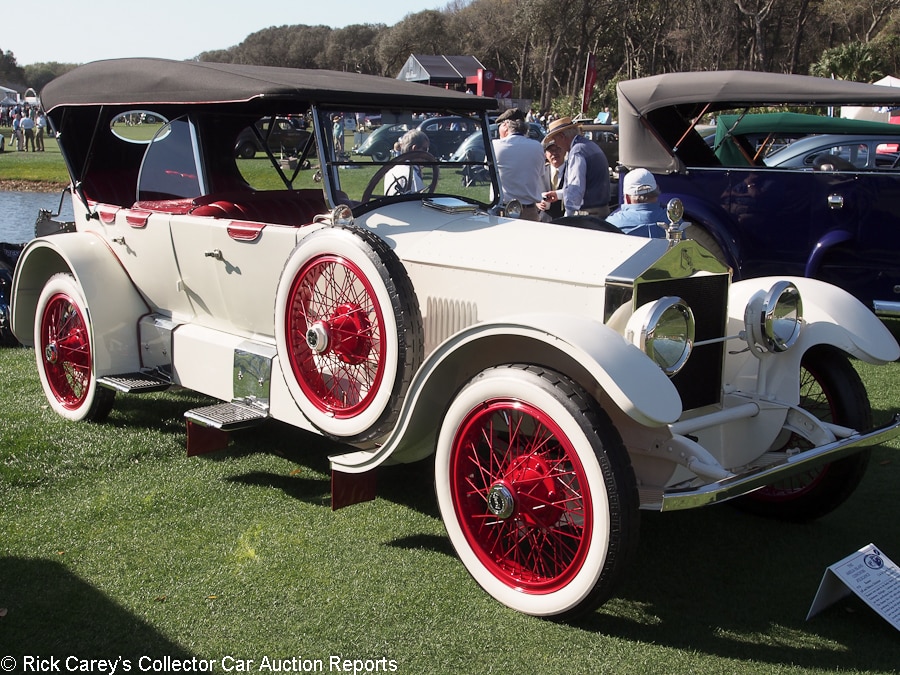 Similarly the 1918 Roamer C-6-54 Sport Touring car s/n 22960 crossed the block at RM's Hershey auction in 2009 where it sold for $68,750. In 2012 it sold at the same venue for $93,500 but at RM Arizona last year it changed hands for just $66,000. It's the only one of its kind known to exist.
Two years ago at this auction RM sold the 1927 Miller 91 "Boyle Valve Special" for $770,000 and if ever there was a race car built and restored to the finest condition this is it. Every Miller is a work of art and this Miller is the worthy representative of Harry Miller's obsession.
Then there was the 1935 Bugatti Type 59/50 s/n 2. It is the sole exemplar of its type, an offset seat Monoposto, and by all recognition is the result of carefully collecting and matching long-separated and long-lost parts to create a car that Denis Jenkinson might have called a "resurrection", bringing the original parts back together again to reflect the talent and style of Ettore and Jean Bugatti.
The featured cars at Amelia this year were Jaguar D-types and their XKSS siblings. Among them were several "old friends".
The most recent "friend" was XKSS716, offered but unsold at Gooding & Company's auction on Friday on a bid of $11,900,000.
D-type XKD528 was sold at RM's Monterey auction in 2002 for $924,000. At the time I opined "Bought right", and indeed it was, selling at Gooding's Scottsdale auction in 2010 for $3,740,000 after a second restoration.
XKD501, the 1956 Le Mans winner for Ecurie Ecosse driven by Ninian Sanderson and Ron Flockhart, has turned up twice at auction. It sold for $2,801,627 at Christie's London in 1999, then a breathtaking $21,780,000 at RM Sotheby's Monterey last August.
XKD530 has an interesting history. Years ago the monocoque and subframes were separated resulting in two XKD530s on the historic racing circuit, both with FIA papers. This car sold at Christie's London auction in 2003 to the owner of the other XKD530 who reunited the original pieces into a single entity which is this car. After rectification it sold at RM's Monterey auction in 2013 for $3,905,000 and was a post-block sale at RM Amelia two years ago for $3,675,000.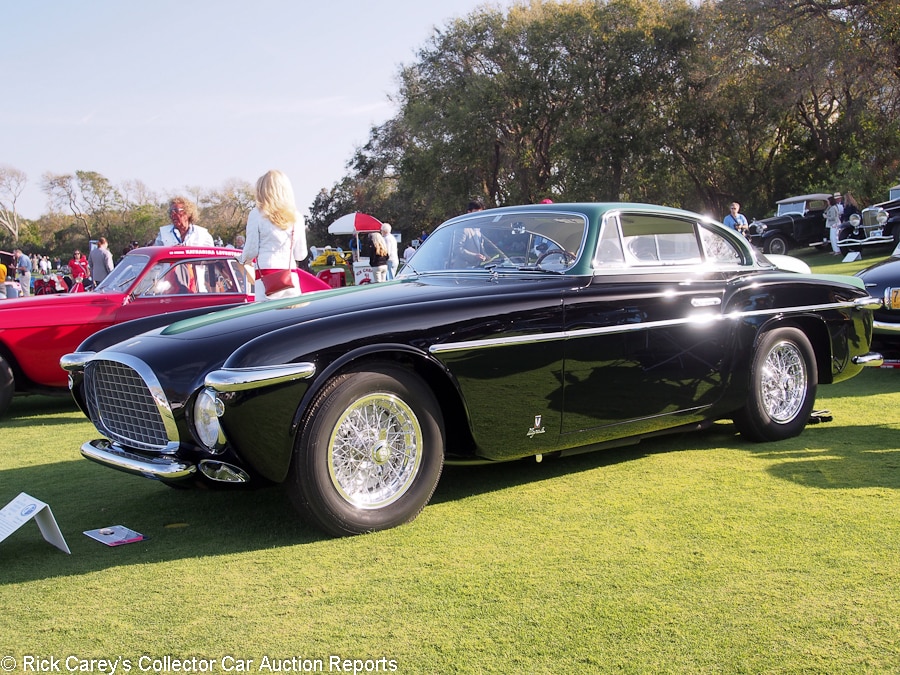 But the Blue Ribbon for "old friends" at Amelia in 2017 goes to the Calkins family for their 1952 Ferrari Europa Vignale Coupe s/n 0267EU.
It was sold here by RM in 2011 with these observations, "Lefthand drive, wire wheels. The 1953 Turin Motor Show car, now missing some of its chrome fender moldings. Owned by Larry Nicklin since 1977 and apparently stored in rough circumstances most of that time. Needs everything."'
The car card described its history: "The Calkins family was motivated to purchase and restore this 212 Vignale Coupe in order to have a Ferrari with rarity and uniqueness of design. They also wanted a qualified candidate to enter in a Concours d'Elegance. Chassis #0267 EU certainly ticked all the boxes with its provenance, design and color scheme. It had been repainted and "fixed up" at various times in its life, but fortunately had never been completely apart. Therefore it had not lost the evidence needed to study in the endeavor to restore it to original configuration. This is not to say there was not significant deterioration, but few human hands had affected the integrity of the original design. The car served as a historic document, demonstrating how Ferrari and more particularly Vignale, approached the construction of this hand built car in 1952. Following a complete restoration it is precisely the car as it appeared on the Ferrari show stand at the 1953 Turin Motor Show."
That is what car collecting is about and it should have been cause for a rare and special award for sympathetic but thorough restoration.
0267EU is now an old, and valued, friend.
Car collecting is a continuum. Through a sequence of owners, with varied purposes and uses, even a succession of restorations, the constant is the cars themselves. Even as the car collecting community evolves, the appeal of great cars continues and assimilates new generations of individuals.
Becoming reacquainted with the cars that are old friends is one of the distinct pleasures of perusing the field at a premier concours d'elegance.